Accepting payments on websites is always a tedious task and we end up wasting a lot of time to find an easy and perfect way that suits our needs.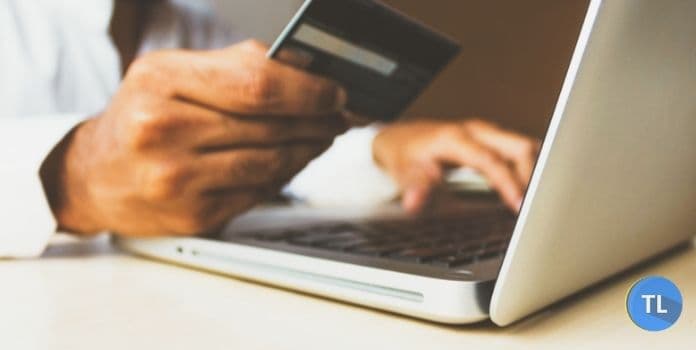 What we need is a simple solution that is easy to use and customize according to our needs.
WordPress has a lot of plugins to integrate payments but they either don't support the payment gateway you want or have a complex setup process.
The same goes with Authorize.net payment gateway integration in WordPress. No plugin qualifies our two needs: simplicity and customization options.
Thankfully, WPForms recently introduced Authorize.net addon which can be used in your forms for accepting payments.
WPForms is one of the best form builder plugins for WordPress known for its easy-to-use UI and advanced features. They support various addons to enhance the features and help you create complex forms easily.
Authorize.net addon is one of them which is created WPForms teams and works flawlessly as every other addons they created.
Features of Authorize.net addon for WPForms
1. Easy to Setup
Using the Authorize.net addon in WPForms is pretty easy. You just need to drag-and-drop the addon and customize it to get started.
2. Accept all Credit Cards Securely
Authorize.net is one of the biggest payment gateways which supports all major credit cards which will be accepted with the addon as well.
3. Ability to Accept One-time and Recurring payments
Selling a product for a one-time fee or creating a newsletter subscription with recurring payments? You got it covered. You can setup both one-time and recurring payments with Authorize.net addon without any hassle.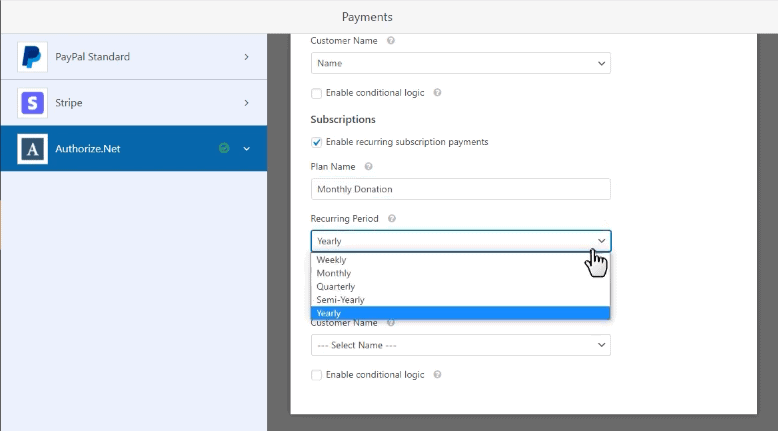 4. Authorize.net's Advanced Fraud Detection
You will get all the security and advanced fraud detection you got in the Authorize.net platform when you use the addon. It follows all the best practices and standards suggested by Authorzie.net to provide you with world-class security and fraud detection. It will be the peace of mind to have such security without any complex setup.
How to Setup a Payment Form With WPForms
Setting up a payment form using WPForms is very simple. You can either accept one-time payments or recurring payments with just a click of a button. Follow the below simple steps to setup your payment form to receive payments on your WordPress Website.
To use the Authorize.net addon, first, you need to install WPForms on your WordPress website. Also, you need to buy the Elite plan in order to use the Authorize.net addon and other advanced features in WPForms.
Once you installed it, just goto to addons and install the Authorize.net addon in order to start using it in your forms.
Now, you can create a payment form by using Add New in WPForms and then either start with a blank form or select any built-in form template and customize it as per your needs.

After creating your form, just select the payments menu in the form builder and setup the Authorize.net addon with your Authorize.net account.
Next, all you need to do now is drag and drop the Authorize.net addon into your form and change accordingly to your needs.
That's it, you successfully created a payment form on your website. You can place this form anywhere you want with the help of a shortcode and receive payments. You can either place this shortcode inside a post, page, or WordPress widget.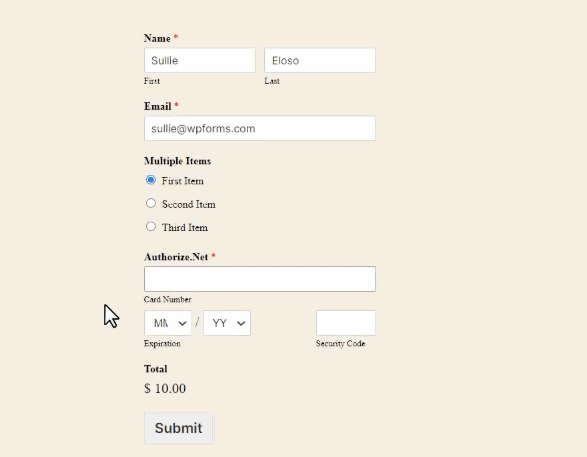 Conclusion:
WPForms is one of the popular and easy-to-use forms plugins for WordPress and Authorize.net addon adds more value to the plugin. You can easily set up any kind of payment form with WPForms advanced features and support for other popular addons along with the Authorize.net addon.