Notification for IIMCAT 2017 was released by IIM Lucknow and one must know their weakness and strength while preparing for CAT exam. SWOT analysis of your CAT preparation will help to determine the best way to study further.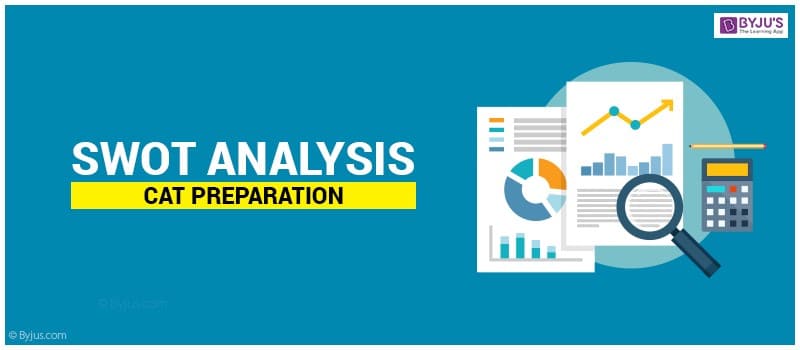 By SWOT analysis you can easily analyze your strengths, weakness, opportunities, and threats.  This article will help you to analyze your CAT preparation and to keep an eye where to put more effort.
S stands for Strengths:
These are the areas from where you can get most of the questions correct. These are well-prepared topics, you need to revise these topics just before few days of the actual exam.
W Stands for Weakness:
These are the topics in which you are not very confident, you struggle with these topics. You are neither bad nor good with these topics; you can solve 30% of these questions.
O Stands for Opportunities:
These are the topics in which you have average preparation or very less preparation. You guess questions asked from these topics, you don't have theoretical knowledge for these questions but you could do better with these if you had that knowledge.
T Stands for Threats:
Topics in which you always score fewer marks. You are sure that you can't answer any question from these topics. You need to correct your basics because an incorrect understanding will lead you towards negative marking.
SWOT Analysis: How to Analyze
Take a mock test of CAT, after you attempted that mock test, you will get an idea of the topics that you can answer easily: these are your strengths. Such questions, which you are not able to answer, are your weakness and threats.  Negative marking is present in the CAT examination, here your weakness can turn into threats and lower your score. Questions you can answer but you are not confident, are your opportunities. But if you put some extra effort, you can turn them into strengths.
SWOT analysis will help you to choose which section to attempt first and which section to leave. You can easily track your progress using SWOT analysis. Now plan according to the SWOT report, put extra effort to your weakness and threats so that it gets converted into your strengths. Always keep an eye to the CAT Syllabus before preparing your CAT preparation strategies so that you don't get off track. Hope this approach works for you.