Loading time
is one of the
200 ranking factors
which Google considers to rank a website. Apart from these SEO factors, we must consider the users or visitors to our blog. If you're site loads slowly then the user will never wait until whole page loads. By this, you will lose your traffic and also increases your blog bounce rate which is very bad for SEO. Anyway, don't worry I'm here to solve your problem. So many people asked me "
How To Reduce The Blog Page Load Time
", so I will explain some cool tips by which you can
reduce website/page load time
.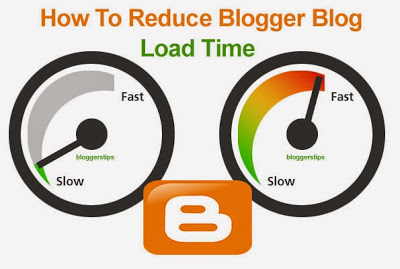 Choose a template which has less usage of Javascript and other scripts, lesser usage of images in designing the template, small size. Before using a template on your blog just test the templates loading time by applying it on a demo blog. If it has less loading time, you can go with a template to reduce page load time or website load time.
For reducing blog post load time you can try for best CDN service provider – MaxCDN which really reliable name for improving page speed.
2. Reduce the number of Posts on Homepage
Always use 4 to 5 posts on the homepage, if you use more than that it will drastically increase the page load time. Another advantage of using fewer posts on the homepage is you can reduce your bounce rate too.
3. Remove Unwanted Widgets
Many people have a significant doubt which is "How Many Widgets We Have To Use in a template", my simple answer to this question is only use useful widgets and remove unwanted widgets. Now a question will raise in your mind that how I will know which are useful widgets and which are useless. For example, if we use related posts widget, social share widget in our template which is very essential then there is no need to remove them. So hope you understand what I am trying to say.It only depends on your niche and your purpose.
4. Remove unwanted CSS and javascript
First removing unwanted widgets, open your template editor and search for useless CSS and Javascript codes which have no use. You can find all the CSS codes used in your template in the header section of the template. If you don't have any coding knowledge, please skip this step. But don't worry that does not matter most but doing this step is right.
5. Use All-in-one social widget
As I already said to remove unwanted widgets from template to reduce the number of widgets.Another thing we can do to reduce widgets is by using All-In-One social share widget because when we use one widget for Facebook and another for Twitter will increase the number of widgets and also increases blog load time.So always use an All-In-One social share widget, and it doesn't mean that not remove your facebook fan page widget because we can't avoid some widgets.
6. Host your CSS and Javascript externally
We all know that size is the most important factor for page load time, for an appropriate image lesser the size of template lesser the blog load time. So how to reduce the size? The only way to do is host your files externally on other drives such as Google Drive(Recommended). You can find entire tutorial here
How To Host Your CSS and Javascript On Google Drive
Use a suitable image and reduce the image size as much as possible. I recommend you to use Photoshop to reduce the image size. Always use PNG images while using images in designing a template and you can also use PNG format in your posts because they are more accurate. For some images, PNG format has more size when compared to JPG or JPEG formats, so at that time use JPG format. But never and ever use JPG or JPEG images in a template design.
8. Don't Use More Than 5 Images In a Post
It is very good to use images in a post but to a limited extent. Always try to reduce the number of images in your post instead try to explain it clearly. Only use 5 in your post which is good. Use images only if they are necessary for your post otherwise avoid them. This will ultimately reduce blog page load time.
9. Don't use image as background To Reduce Page Load Time
I saw many blogs which they use the image as a background even if you observe clearly my blog also uses a background image. But why I asked to remove the image as background? Because i saw many blogs which have an image as background and takes a lot of time to load that image but my blog template will load fastly as much as possible because it will never interrupt my blog loading time.
So I don't remove my background image. If your blogger template background image loads faster then there is no need to remove it else you must remove background image and code your background instead.
10. Avoid Redirects
Redirects always irritate the user and he may leave the blog and it is also bad for SEO. Anyway we can't avoid some of the redirects, but don't use redirects on landing pages. You can use 301 redirects instead of oher redirects because it will never effect your blogs SEO and website/page load time.
11. Avoid popup widgets and subscriptions
Yes, i know popups are the great way to increase number of likes and number of subscriptions but these also makes blog to load slower. So choose an another way to increase your likes and subscriptions or otherwise show the popup once for each visitor.
12. Reduce Number of Ads
Don't make your blog as a ads market by showing various number of ads of various networks. Only show less than 5 ads in a page because ads will use javascript to serve ads which will decrease your page load time.
Final words:
So i shared all the techniques and tips which i use to reduce my blog load time and i got positive results out of them. If you know more tips about reducing site / page load time other than this please share your suggestions in comments.If you have any queries related to this feel free to comment and if you like our work share this with your friends.