One of the keys to being productive is to keep an eye on the time. Not knowing what time it is, or how much time you have to do a particular task can really hurt your productivity. I used to procrastinate frequently, but I quickly learned that it was much better to get organized and get things done quickly instead of leaving them for later.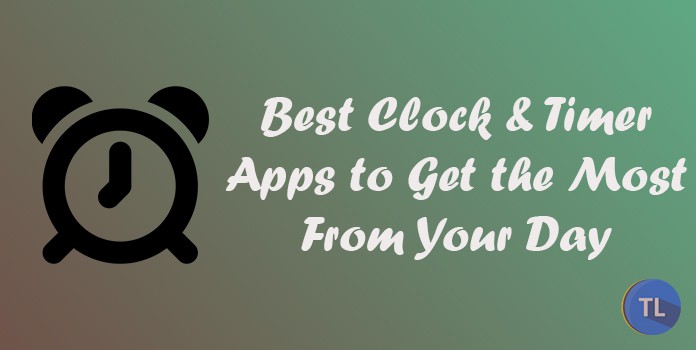 By getting things done early and on time, I could free up my schedule and do whatever I wanted for the rest of the day. So, I decided to put together a list of the best apps with clocks and timers so you can easily keep track of time and get the most from your day.
Best 10 Apps for Clocks & Timers
I tested the apps on the list and chose my top 4 favourites. I organized them into two groups based on the features they offered. The first group is great if you want to set alarms by choosing from a variety of music and sound effects. The second group is great if you want to track your sleep, to make sure you are getting enough rest.
Clock & Timer Apps for Setting Customized Music & Alarm Sounds
The library of alarm sounds that comes on your phone can get pretty old quickly. And, we all know how unpleasant it is to wake up to a phone alarm you don't like. So, rather than selecting from only a few alarm options, with my second group of apps you can choose from a variety of music and sounds, so you can start your day exactly as you like.
1. Alarm Clock' (iOS)
My first pick is Alarm Clock' for iOS. I found this to be a great app if you want to wake up by listening to information such as the news, weather forecast or your social media newsfeed. I also liked that you can set up a sleep timer if you want to fall asleep listening to your favourite music. Although I didn't have any issues, some users were not thrilled that the developers have been redesigning the layout of the app over the last few updates. So, don't get too comfortable with a specific layout as the developers are working at streamlining their interface.
2. Alarm Clock (Android)
My second pick is the Alarm Clock for Android. What I like about it is that not only can you select any song or sound you want as an alarm, but you can also choose from a variety of fun themes for your app. I also like that you can set alarms for events in advance, so you can easily keep track of birthdays, meetings and other dates. Unlike my first pick, there is no option for waking up to weather forecasts or news. For this option, you might prefer Alarm Clock' instead.
Clock & Timer Apps for Tracking Your Sleep
Another key to being productive is making sure you are getting enough rest. Working overtime without letting your mind and body rest, can be bad for your health and for your productivity. The second group of apps I selected is great for keeping track of the hours you sleep, so you can identify your sleep patterns, get enough shut-eye and start your day with the energy you need.
1. Sleep Cycle alarm clock
My third pick is the Sleep Cycle alarm clock. This app exceeded my expectations when it comes to sleep tracking, as it does much more than simply count the hours you sleep. I particularly liked that it analyses your sleep quality throughout the night by using sound detection technology.
It then uses this information to identify the best time to wake you up based on your sleep cycle. I also liked that you can view detailed graphs on your sleep quality to get some insight into your sleep patterns.
While you can enjoy all the features for free in the short term, if you want to analyze your sleep patterns in the long term, you will need to pay for a subscription. However, even if you don't subscribe you still get a wealth of sleep information at no cost to your wallet.
Download Sleep Cycle alarm clock for Android & iOS
2. Runtastic
My last pick is Runtastic. Like my previous pick, you can easily track your sleep patterns just by laying your phone nearby, on your night table or by your pillow. I also found the sleep cycle analysis features to be really insightful as you can see exactly how long you are in deep or light sleep.
I also liked how the alarm is automatically timed to go off during your lightest sleep cycle, so you wake up with the most energy. The only drawback I found is that sleep data does not get collected after the alarm goes off.
So, if you like to snooze through multiple alarms, it won't keep track of the extra minutes you stayed in bed. However, you might find you won't even need them since it will wake you up at the optimum moment.
Download Runtastic for Android & iOS
Conclusion
These are my favourite timer apps for making the most of your day and maximizing your productivity. Whether you want to wake up by listening to the news, or you want insightful information on your sleep patterns, I'm certain you'll find what you need. With these apps at your fingertips, you'll start the day on the right foot!