With the increase in social media use, businesses have taken the initiative to create a presence in different social media accounts. However, having a social media account alone just doesn't cut it. You need to establish a strong presence if you want your brand to get noticed.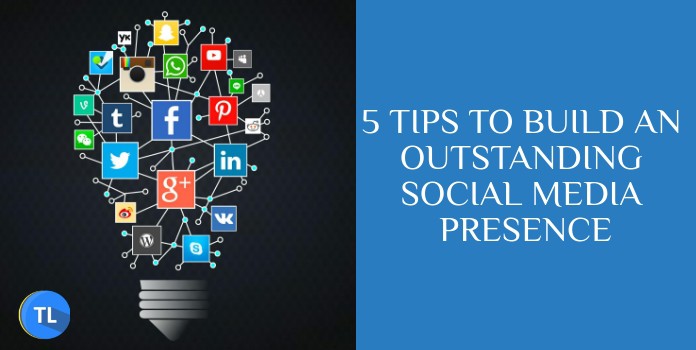 You can know if your brand is getting as noticed as you'd like it either through the likes or shares you get. Sharedcount is an effective tool that lets you track the likes, shares, and more than your social media accounts get.
If you are looking to build an outstanding social media presence, this article will list some of the essential tips.
Tips to Build an Outstanding Social Media Presence
1. Use visual content
Most digital marketers will agree to the fact that visual content plays a vital role in getting noticed on social media platforms. Visual content is more engaging, plus it passes the message across clearer than text, making it ideal for content marketing.
That notwithstanding, visual content helps brands get a high ROI. Keep in mind that visual content includes both images and videos. You need to use each according to the point that you want to be passed across.
Visual content is especially effective when it comes to promotions. Interestingly, they can be used across different social media channels.
2. Post high-quality content often
A common mistake that is made by businesses that have social media accounts is failing to post often. If you would like to outrank your competition and gain a large audience, you need to ensure that you post often.
Why? When people log into their social media accounts, they scroll through their timelines reading different posts. If you post often, there is a high likelihood that your followers get to see your post on a daily, including anything new that you're offering.
On the other hand, if you fail to post frequently, your followers will not see your post, not unless they search for your account, which rarely happens. Also, ensure that you post high-quality content to be more engaging.
As a brand, you need to ensure that you have an account on different social media platforms. Different social media channels have distinct types of audiences; therefore, you have to tune your content to suit specific audiences in each social media channel.
Moreover, creating a presence in different channels ensures that you reach a large number of people. Also, tailor each post to reach the targeted audience on each social media platform.
If there is one way to make your brand known over social media, it is by personalizing your content. People tend to feel more connected to brands that can connect with them on a more personal level.
You can achieve this by sharing personal stories about yourself. You can tell them about how your day was, and the exciting activities you were engaged in. Ensure to make your posts not so much about your company/brand.
Try to ask your followers some questions about themselves and engage on your timeline. Doing this shows concern, and people will most likely go with a brand that is empathetic.
5. Consider automation
Automaton is an effective way to create an outstanding social media presence for your brand. However, you have to ensure that you do it properly. Do not expect that you will bear fruits by leaving your account on auto-mode.
Such methods are outdated because they do not deliver what the customer expects. Social media platforms need to provide a more hands-on approach, which is effective when you are responding to customer questions.
Automation helps you to strike up conversations, saving you a lot of time. It is hard to meet the time demands of your clients, and that is where automation comes in handy.
Conclusion
Social media has transformed the way the business world operates. It has also become an effective marketing platform that lets businesses reach a wide customer segment.
However, you shouldn't expect to be noticed on social media because your brand has an account on a social media platform.
No, You need to make some vital steps to implement certain strategies that will give you a competitive edge. You might consider implementing some of the tips mentioned in this article.