Hosting a karaoke party can be a lot of fun, but for the perfect party, it requires a lot of gear and maybe a couple of out of budget payments.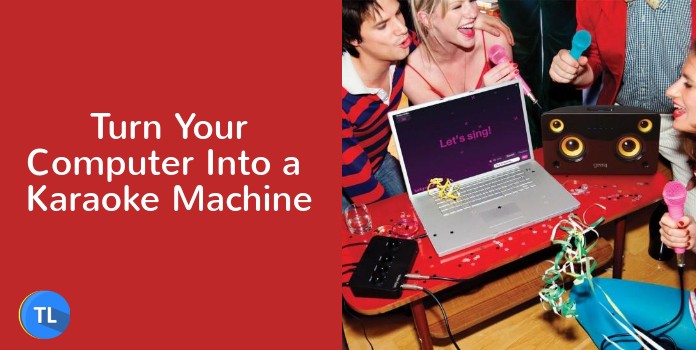 If you want to host a successful Karaoke party while keeping it under budget, there are a number of things you can do with your computer to make it as good as a karaoke machine.
The following are the steps you need to take to turn your laptop or computer into a karaoke machine and enjoy the party without going over budget.
Turn Your Computer Into a Karaoke Machine
1. Find a suitable software
The first thing that you will need is karaoke software to make your computer a legit karaoke system. There are several free and cheap programs on the internet. You can download them or you can get a CD or DVD of these programs.
Install them on your computer and make sure they are running without any bugs. You can also choose multiple programs for a bigger library and a better selection.
Keep in mind to go for authentic computer programs as possible otherwise, the quality of the audio may be very bad.
2. Adjust the sound system
Most modern computers come with equipped sound cards; however, for the system, you will need to get an external USB sound card which will not cost you triple digits.
This card is important to attach the high functioning sound systems and so that the soundcard of the computer is not messed up when you are done with the party.
Attach your speakers or sound system on the audio jack of the computer and then attach your microphones to the computer's audio jack. You can also get a jack system that branches out for multiple microphones. If you have an amplifier, attach that to the sound system as well.
3. Control the system
On your computer system, go to the playback setting under the audio controls and choose the plugged-in external soundcard as the playback device.
Turn the computer's volume down and plug in the stereo system to the sound card of the computer.
4. Connect to a bigger screen
If you are satisfied with the laptop or computer screen then you can go for them, but you can always connect the screen to your television or another monitor.
Simply take the RGB cable or any other form of cable to attach your computer screen to your television.
Most modern day televisions and computers have a smart share option where you can simply share the screen.
5. Play the software
Even though it may seem obvious, but play the software and adjust the display, colours, sound, and equivalency as needed and run it a couple of time to ensure that it is smooth and does not malfunction during the event.
Make sure to keep the system and wires out of the way for the guests so that they do not malfunction.
Conclusion
Turning your computer or laptop into a karaoke machine is a cheaper option than buying a whole new set. It might be a little technical and you will still probably have to spend some money, but you can save a lot by not going for extensive spending on just one event.
One advantage is that you can instantly be connected to as many programs as you choose which gives the singers a wide variety of songs to select.