I have an HP Envy computer (27-K119) with Windows 10 and have been locked out of my computer – it does not accept my windows password to log into the desktop.So now I am stuck. I cannot back up my data and I am being told by HP that I have no choice but to perform a factory-reset and wipe-out all my existing data.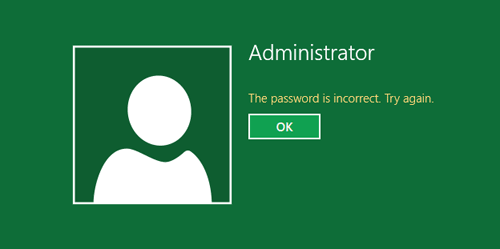 Incorrect Password Screen
It is really a big trouble if you forget your sign-in password. You are prevented from accessing Windows. If you need the computer to do homework or other subjects urgently, you can follow the advice contained in this article. It shows you three basic methods for resetting HP Windows 10 password.
Note: Windows 10 features the option to sign to your computer using either a Microsoft account or a local user account. Therefore, please be sure what type of account did you created.
Tip: The methods explained below are applicable for all windows 10 PC's and Laptops
Method 1. Resetting your account password using a password reset disc
This method applies to local account only, not for Microsoft account. And the password reset disc must have created when you can access into your PC before.
Turn on the computer and attempt to enter the sign-in password at the Windows sign-in screen.
If the password was entered incorrectly, a message displays stating the user name or password is incorrect. Click OK.
Insert your password reset disc, and then click Reset password.
The Password Reset Wizard displays. Click Next.
Select the password key location from the drop-down menu, and then click Next.
In the spaces provided, type a new password, type it again to confirm, and create a password hint to help you remember the password in the future. When done, click Next.
If the password was reset successfully, click Finish.
Use the new password to sign in to Windows. You do not need to create a new password reset disc for the new password.
If your account is Microsoft one, there is no other option. You can search the internet for password recovery software. Such as Tenorshare Windows Password Recovery Tool Ultimate, it can recover Microsoft live account password.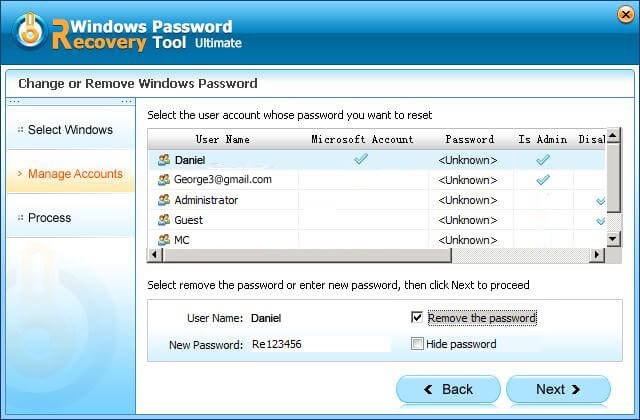 Windows Password Recovery Tool
Method 2. Using an old password
Many users upgrade Windows 10 from Windows 8 and then lost login password. If you still remember the old password you have used in Windows 8, you can restore the system back to a time when you were using a password that you remember.
Turn on the computer and immediately press the F11 key repeatedly to open HP System Recovery.
Under I need help immediately, click Microsoft System Restore.
Follow the on-screen instructions to restore the computer to a previous state.
Method 3. Using local store password recovery service or online password recovery software
If you have never created password recovery disc before and you have forgot the old one too. The three options may be helpful.
Perform an HP System Recovery. To be honest, this is not recommended for it will erase all files, including local password information. It is the final choice if there is no way available.
Call local computer repair and service stores. In general, it takes around $200 to fix it.
.Using password recovery software. This is much more economical. In general, $20 can help you work out everything. Take Windows Password Recovery Tool for example, the most expensive version is $44.95. It can recover local/domain/Microsoft account by creating password recovery CD/DVD/USB. If you only need to recover local account and your computer have CD/DVD drive, the Standard version can help you fix all issue with only $17.95. Other software is also available. You can choose it according to your requirements.