I recently bought Moto G4 plus and it's been a month since I'm using this smartphone. I will be covering almost everything about Moto G4 plus. This review is from my personal experience while using this smartphone as my daily driver. I'm not taking into consideration of any hypes or anything about this smartphone. You will be able to decide whether to buy this smartphone or not after reading this review. I will be clearing all your doubts and compare them with the competitors in a way which lets you decide between them.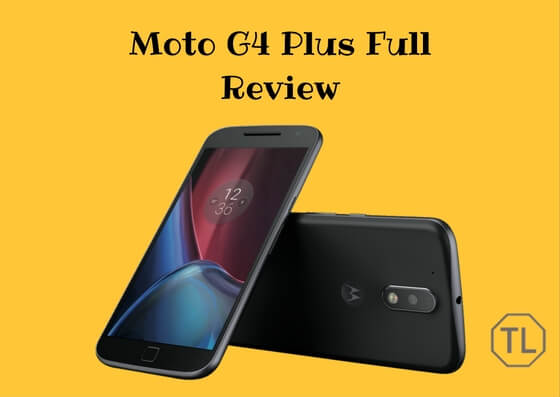 Before that let me cover all the specifications of Moto G4 Plus.
Display: 5.5 inch 1080p at 401 ppi.
Processor: 1.5 GHz octa-core Snapdragon 617 with Adreno 405 GPU.
Operating System: Android 6.0 (Marshmallow)
Rear Camera: 16MP with f 2.0, Laser Auto Focus, Phase detection auto focus(PDAF), Omni vison sensor, Duel LED Flash, 1.3 Um pixel size.
Front Camera: 5MP with f 2.2wide angle camera with on screen flash
Video: supports 1080p, 720p video recording at 30fps and slow motion video at 120fps.
Battery: 3000 mAh
Sensors: Fingerprint Sensor, Gyroscope, Ambient light sensor, Auto brightness, Proximity.
Here starts my review….
Moto G4 Plus is really a practical phone with best features mainly its camera and fastest fingerprint scanner.
This smartphone has many features but it will never be competent to other smartphones which has more features at this price range but here is the catch. The other competitors have the best features just on paper but coming to real life usage Moto G4 Plus is the clear winner with really well optimized features and lightweight design.
Build Quality:
Moto G4 Plus is very light which weighs just 155 grams and even I never felt it like I'm holding a 5.5-inch device. It is very lightweight for a 5.5-inch device and coming to in-hand feel, it's awesome. The only drawback is everything is built with plastic even the sides may look like metal but unfortunately they are also made of plastic which makes Moto G4 Plus weight lesser.
Overall in hand feel and build quality is extremely good. You will have no complaints with the build quality even it is made of plastic. You can buy a smartphone case for Moto G4 Plus for even better feel and protection.
Display:
Moto G4 Plus has best 1080p display which literally beats its competitors at this price range including Redmi Note 3, Lenovo ZUK Z1, LeEco Le 2 etc. Frankly speaking the display on Moto G4 plus is really vibrant and crisp with no yellow tint or what so ever. You will have no complaints with the display.
You will be able to use Moto G4 plus on direct sunlight with ease and when coming to its biggest competitor Redmi Note 3 which fall really behind in this aspect. You won't be able to see Redmi Note 3 Display on Direct sunlight. Moto G4 plus display is bright and vibrant. You will fall in love with the display.So, here the clear winner in terms of Display Moto G4 plus.
Camera:
Moto G4 Plus camera is the most hyped spec by Lenovo at its launch event. But I'm not considering those all hypes and tested myself to know how well the camera performs. I'm stunned to notice that the 16 MP rear camera on Moto G4 Plus is the best camera not under 15k price bracket but also it beats the iPhone 6 plus and Nexus 6P camera in some aspects whose price is 3 times higher than this smartphone according to DxOMark. You can check Moto G4 Plus DxOMark rating.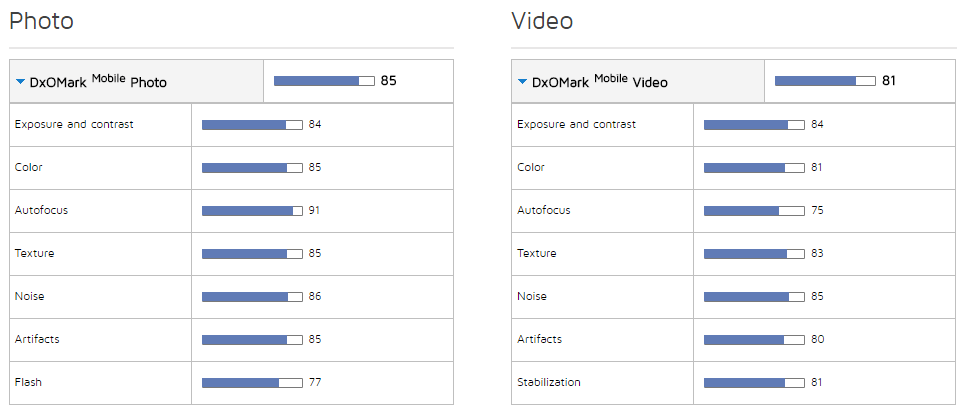 In outdoor lightening conditions, it done a really fantastic job. All photos taken in outdoor or crisp and it maintained all the artifacts without missing any detail and the focus is fast as it has a laser auto focus sensor. Shutter speed is lightning fast. You also have slow motion, panorama, professional mode in the camera.
In indoor lightening conditions, it tried its best but unable to maintain the color accuracy and has some noise in images which will be noticed only after zooming the image but overall it done its best compared to its competitors. It also has Omni vision sensor which let you take photos at night times with good quality and surprisingly it does a good job at night times also.
Here are some camera samples;
Outdoor light shot on Moto G4 Plus:
Without HDR shot:
With HDR shot
Coming to front camera which is 84-degree wide angle camera, it is a mixed bag. It is able to take good selfies in both indoor and outdoor lighting conditions but lacks while taking video from its front camera. I'm not saying it doesn't have a best front camera but Lenovo ZUK Z1 front camera done somewhat better than Moto G4 plus. Anyway, the difference is really small and you won't be disappointed with front camera on Moto G4 Plus.
Rear camera video recording is really cool on Moto G4 Plus. It has done a good job at video recording at 1080p (30fps). Unfortunately, it doesn't have a Optical image stabilization (OIS) but the software stabilization is really done a great job you rarely notice any shake in the video. Below is a video sample taken while walking.
Below is the slow motion video sample taken at night.
Software and Performance:
Moto G4 plus has Qualcomm snapdragon 617 which is octa-core processor clocked at 1.5 GHz with Adreno 405 GPU. Coming to processor it may look little down in terms of processor Motorola has chosen compared to its competitors which has Snapdragon 650 (Redmi Note 3). But the good news is it beats the other smartphones in terms of performance.
All other smartphones at this price range lag while gaming but Moto G4 Plus doesn't which has mid-range processor compared to other smartphones at this price. I'm not considering the benchmarks here as the user experience and real time performance matters than benchmarks.
Although I rarely noticed some lag after continues gaming but compared to its competitors its minute. Yes, the smartphone heats but not to the extent which you are unable to hold device and after it heats you will notice lag while gaming otherwise it doesn't lag. It got an update which reduced the heating issue but still needs further improvement.
Android 6.0 on Moto G4 Plus is buttery smooth and good user experience and it will be receiving Android 7.0 by the end of this year as per Motorola blog post.
In my honest opinion, if moto has launched the Moto G4 Plus with Snapdragon 625 or 650 then there will be no competition for Moto G4 Plus at that price. Anyway have a good experience with it.
Battery:
Moto G4 Plus has a 3000 mAh battery which is a minor improvement compared to its previous models but it will last for the whole day with moderate usage and with heavy usage you need to charge by the end of the day. I'm getting a screen on time(SOT) of 4.5 hours to 5 hours. Fortunately, we have a turbo charger which charges the smartphone quickly. It almost took 1 hour 40 minutes to charge from 5% to 100%.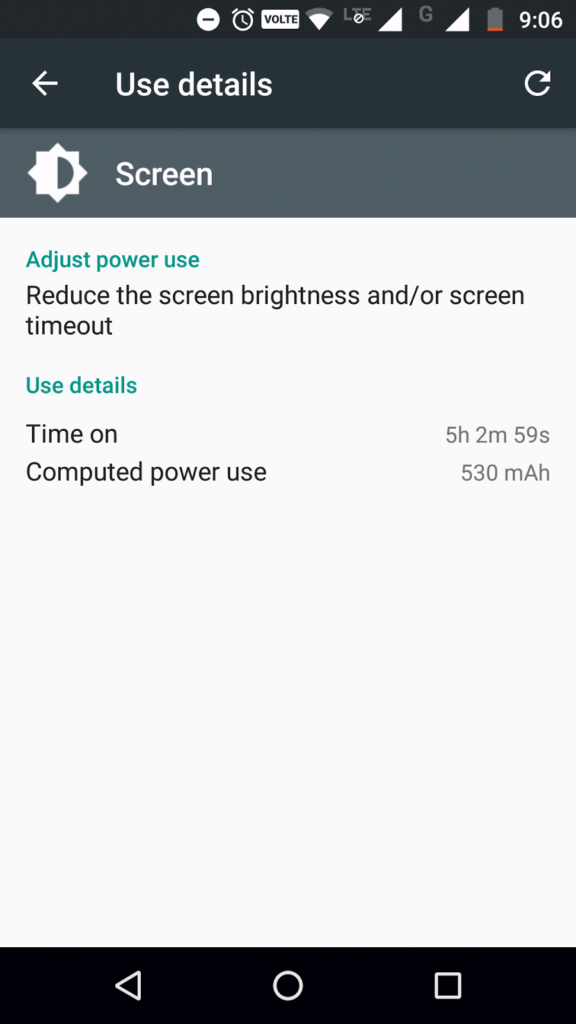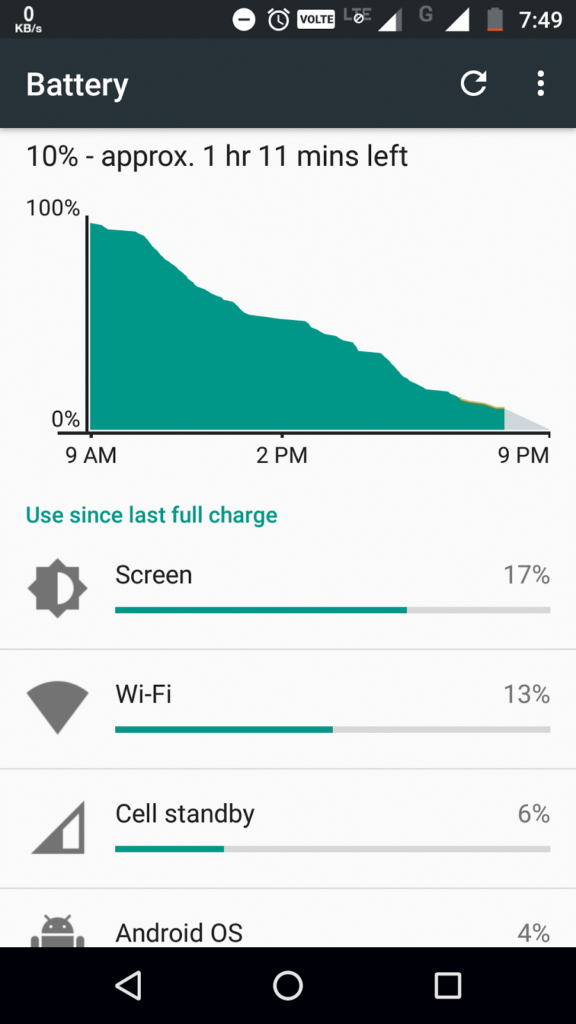 Also Read:Improve battery life in android
Other thing is the after reaching 78% the phones charges at regular charging rate to reduce heat and you notice that the charging will be slow after 80%.
Issues in Moto G4 Plus:
1. The major issue with Moto G4 Plus is the heating issue which is average but most people worry about it but it will be negligible for most of people. It depends on your preference but Motorola may reduce that issue in the Android 7 update. You won't be disappointed with heating issue if you bought the smartphone or willing to buy it. Everything depends on your preferences. It heats very high while charging but it's not an issue because every smartphone which has fast charging heats.
2. Ghost Touch: Most of the people may never heard of this term but let me explain. Ghost touch means the device operates itself with anonymous touches when you use Moto G4 Plus while charging. But no need to worry I searched the Motorola forums for the fix and I found it finally. You just need to visit your nearest Motorola/Lenovo service center and ask them to fix that issue they will fix it without altering the hardware.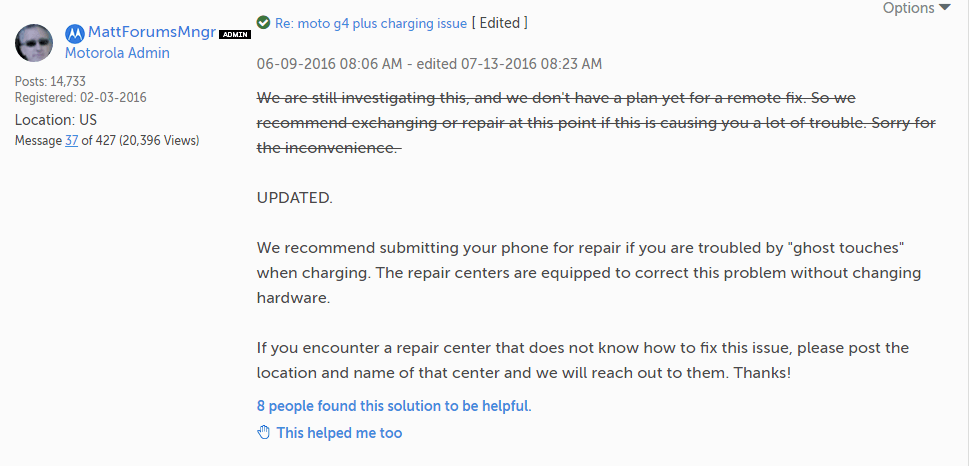 3. A noticeable amount of lag in gaming after device gets hot but all other devices at this price lag even without heating. After the device gets cooled you will notice no lag at all.
Pros:
Best Camera at this price.
Good display quality
Good in hand feel
Stock Android experience with little customization and added advantage of Moto Actions
Smooth experience
Fast Charging (TurboPower)
Cons:
Device heats while gaming and using camera
Noticeable lag after it heats up
Plastic build
Lack of compass sensor and NFC.
Whether I should buy Moto G4 Plus or not?
Moto G4 Plus is really a perfect smartphone for many people from average user to heavy gamer but only with little compromise with heating. If you are not particular about heating and not a heavy gamer you don't need to think of not buying, you can buy without any doubts but if you are a heavy gamer and very particular about heating then I recommend you to check Redmi Note 3. But overall you can go with Moto G4 Plus without any doubts.