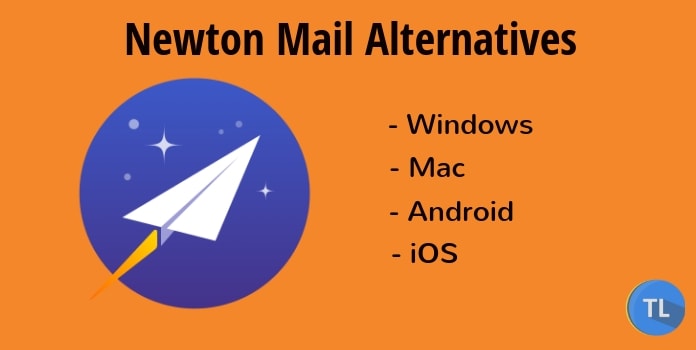 Newton mail is one of the best email clients out there for many years. Newton mail originally started under the name of Cloudmagic, which is a Free email client. Then, they shifted completely to a paid model. This most beautiful and productive mailing app is going to shut down on September 25, 2018.
After Newton mail got shutdown, Essential acquired it and bought it back from death. But, recently Essential itself is shutting down and it also wants to shut down Newton mail completely this time. Now, Newton mail will shut down on April 30, 2020.
This news is really sad for all Newton mail lovers and especially me as Newton mail user who was using it for the past 3 years. I enjoyed the minimal interface with lots of useful features like email tracking, snoozing emails, etc.
Update: Newton mail is now back on May 11th, 2020 and the pricing will be $49 per year.
The most interesting thing about Newton mail is it's available across all platforms such as Windows, Mac, Android, and iOS. This is the biggest advantage of Newton mail.
Since Newton mail is coming to an end, we researched a lot for the best Newton mail alternatives for Newton mail. We listed 10 best Newton mail alternatives after long research and testing. Do note that none of them is available across devices.
As Newton mail is back, you can use or try some of the best newton mail alternatives mentioned below. Some of these are less expensive or have different/more features.
Newton Mail Alternatives for Windows and Mac
1. Microsoft Outlook
Microsoft Outlook is the best email client for when it comes to features they offer. As Microsoft owns Outlook, you can trust it and it has a ton of features that can help an end-user and businesses. Microsoft Outlook is used by lots of businesses and end-users which has a large user base and support.
Microsoft packs some interesting features such as Rules for emails, Text expansion with text snippets, mute email accounts and more. If you want even more then you can check their addon store. Addon store which has pretty much everything you ever want. It also comes integrated with contacts and calendar which can sync with your Google account.
You can also track emails like Newton mail by using one of the addons from their store such as bananatag, Hubspot sales, etc.
The only thing Microsoft Outlook is not a Free application.
Pricing: $129
Availability: Windows, Mac, Android, iOS, and web.
Check Microsoft Outlook here.
2. Mail Spring
Mail Spring is another best Newton mail alternative that has almost similar features of Newton mail such as minimal interface, email tracking, snoozing emails, follow-up reminders, send later and rich contact profiles.
You can even have support for Mail templates which is unique compared to Newton mail. Although Mail is a totally Free mail client. Mainspring has a Free and Pro plan. The Free plan lets you up to 4 emails which is ok for most people and Pro Plan removes emails count and unlocks limits and additional features. mainspring Pro is $8 a month if you have a lot of emails to manage.
Pricing: Free and Pro ($8/month)
Availability: Windows and Mac
Check Mail Spring here.
3. Postbox
Postbox is one of the most beautiful email clients after Newton mail for windows. It has a more apple-like look interface. Postbox is known for its simplicity and useful features it offers. It has features such as email responders with inbuilt templates and placeholders within templates.
It also has features such as reminders, emoji support in emails, tagging, a quick post to other networks such as Asana, Trello, Wunderlist, Evernote, anti-tracking support and pre-designed signatures.
It all comes with a cost of $40 for a lifetime and do note that you need to pay $40 for each version. It means if you purchased Postbox 6 then you can use it for life but if you want to use its new version such as Postbox 7 then you need to purchase it second time vice-versa but you will get some discount as an old customer.
Pricing: 30-day free trial, $40 one time fee.
Availability: Windows and Mac.
Check Postbox here.
4. Mailbird
Mailbird is another popular email client on our list. The best thing about Mailbird is it has a unified inbox where you can view all your emails in one place without a need to switch between email accounts. Mailbird is most popular for its unique features such as support for themes, app integrations such as WhatsApp, Evernote, Dropbox, etc, snooze emails, Custom Sounds for different mail accounts.
The interesting thing is Mailbird is too cheap compared to other email clients with a pricing of Rs. 2500 for life with all future updates. It also has a Free plan and a yearly which costs Rs. 995/year.
Pricing: Free, 995/year, Pro (Rs. 2500 one time fee)
Availability: Windows
Check Mail Bird here.
5. eM Client
eM Client is also the most popular as Mailbird but they work differently. I feel eM Client is fast in terms of initial setup and has some unique features compared to Mailbird. It has support for autoresponders, automatic backups, themes, chat, agenda, mass mail, contact details, and a super-fast search.
It also has the ability to create quick texts which help you create text snippets, templates, signatures and email rules. It also supports contacts, calendar, and tasks.
eM Client just focuses on better email experience rather than some unwanted features.
Pricing: Free and Pro plan ($40 one time fee)
Availability: Windows
Check eM Client here.
6. Mozilla Thunderbird
If you are looking for an email client that is completely free and open-source then Mozilla Thunderbird is your right choice. It is the most popular email client for Windows, Mac, and Linux with a ton of features.
The only thing disappointing thing about Thunderbird is its outdated interface but apart from that, it can compete with almost any email client in terms of features. As it is open-source, it has large community support and has support for add-ons, themes from the community. You have addon for almost anything you want.
It is updated frequently and supports contacts, calendar and much more
Pricing: Free
Availability: Windows and Mac
Check Mozilla Thunderbird here.
Newton Mail Alternatives for Android and iOS
1. Gmail
Gmail is the most popular and will be installed on almost every Android device. It not only supports your Gmail accounts, but you can also literally add any accounts such as Zoho, etc. Google makes it's apps very well optimized for Android devices. Gmail has the best UI experience and clutter-free UI. The most important thing is it's completely free to use without any limits.
Gmail recently made many UI changes and you will notice a redesigned UI on the web with some interesting new features. On Android, you have some good features like customizable swipe actions, confidential mode, and support for Add-ons.
Pricing: Free
Availability: Android, iOS, and Web
2. Spark Mail
Spark Mail is previously available for iOS and Mac and it is available for Andriod. The best part is it's completely FREE to use. Spark Mail has a clean and beautiful UI that organizes all your emails into various categories like Personal, Notifications, Updates, etc just like Gmail but in a more appealing way and known as the smart inbox.
Spark Mail has a bunch of features which is not available in most of the FREE apps such as snooze emails, schedule emails, teams, reminders, smart Notifications and much more for FREE.
If you are looking for an email client which is clean and feature-rich then Spark mail will never disappoint you. The only drawback is, currently it's not available for Windows otherwise it is a great alternative to Newton mail as it packs most of the Newton mail features.
Availability: Android, iOS, and Mac
3. Microsoft Outlook
After Gmail, the next most popular email app is Microsoft outlook which comes with a different concept such as a focused inbox which helps you get out of unwanted clutter and see only see emails that are useful for you.
There are other unique features such as universal search across email and you will also get reminders about your bookings, bills, etc. It also has support for contacts, inbuilt calendar and do-not-disturb mode for particular email accounts.
There are many other things such as an easy way to switch accounts and much more.
Pricing: Free
Availability: Android, iOS, Windows, Mac, and Web
4. BlueMail
Bluemail is getting a lot of attention in recent days with its unique features and clutter-free UI. You can even change themes in Bluemail with the colour you like. It also has a unified inbox that will display all your emails in one place.
The feature which I like in Bluemail is clusters, which will group all your emails based on the sender, so you will have a chat like the history of your emails. It has other unique features which attracted the masses is Group email, the ability to categorize all your emails to various categories such as family, friends, etc.
The other important thing here to note it's the email account and setting sync across devices which is available if you verify your mobile number.
Bluemail is currently available for Android and iOS and soon Bluemail will be available for Windows soon. This is very good news for a Newton mail user and this will be considered as my Newton mail alternative for me.
Pricing: Free
Availability: Android, iOS, and Windows
5. Edison Mail
Edison mail is another AI-powered email app that resembles me of Inbox by Gmail but the view of emails is different. There are some features you will love in Edison mail such as block read-receipts, custom snooze, undo send, face ID or touch id support, smart notifications, assistant categories.
Edison mail is faster than many email apps that are listed here and it also has great features. So, give it a try and experience faster emails.
Pricing: Free
Availability: Android and iOS.
Newton Mail Alternatives for Mac and iOS
1. Spark
Spark is easy to use an email client for Mac which looks minimal and feature-rich which will help you stay on top of important emails.
Spark mail lets you focus on important emails using a smart inbox. It also has some powerful features such as intelligent search, snooze emails, send later, reminders to follow-up, and signatures.
If you want a simple email client with useful features then give spark mail a try.
Pricing: Free and Premium ($6.39)
Check Spark here.
2. Airmail 3
Airmail is the most popular and is the Apple Design Award Winner of WWDC 2017. It is one of the most affordable and minimal email clients for Mac. It focuses on emails and also has lots of app integrations.
Pricing: $9.95 for Mac and $4.99 for iOS.
Check Airmail here.
3. Canary mail
Canary mail is one of the beautiful email clients for Mac. It packs lots of features such as email templates, email tracking, one-click unsubscribe, one-click unsubscribe.
It also has a focused inbox like Outlook which helps you focus on an important email. You can also use it's natural language search to find your emails, attachments, etc. It is pretty fast and has app integrations such as Dropbox, Google drive and Giphy.
Your emails in canary are always safe with its one-click encryption feature. Give Canary mail a try which is worth your time.
Pricing: $20 for Mac and $10 for iOS app.
Check Canary Mail here.
So, we listed almost all alternatives for Newton mail. If we miss something then let me know in comments.