Even though Sony's Xperia series is most famous for its Z1 waterproof smartphone which really gave the manufacturer's competition a run for their money, there are great phones in this series, which may not be able to offer as mush in terms of specifications or exclusivity, but which might still fulfill the needs of most average users, without demanding them to reach too deep into their pockets.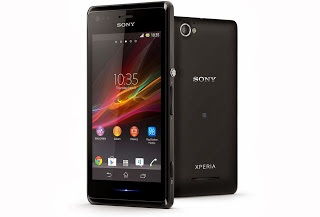 Xperia M C1905 (C1905 was offered to the worldwide market, while the same phone is sold under the C1904 mark in the United States and Australia) is a great example of combining functionality with reasonable pricing, and it would be an injustice if it were to be ignored because of its more famous cousin.
Design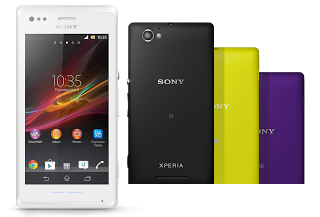 As was to be expected Xperia M C1905 doesn't look quite as fancy as Z1, but it is still a sturdy enough, well-built phone. It comes in a plastic body, which may not be as good looking as a glass back cover of Z1, but allows for easy battery replacement, which may be of importance for those who like carrying an extra battery around for emergencies. You can get Xperia M C1905 in , , and . Sony claims that their OmniBalance systems are responsible for the fact that the phone is just as comfortable to hold in portrait mode as it is in the landscape, while its dimensions of 124 x 2 x 9.3 mm and weight of 115 g mean that the phone is by no means unwieldy.
Screen
Being a mid-range phone, Xperia M C1905 doesn't have a screen that will leave you in awe, but that's not to say that it is inadequate. The phone comes with a 4-inch TFT display with an 854 x 480 resolution, which translates into 245 pixels per inch.
Hardware
Xperia M C1905 is powered by a Dual-core Qualcomm 1 GHz processor, 1 GB of RAM and 4 GB of internal memory. If you find that amount of storage too limiting, you can expand it by as much as 32 GB with a MicroSD card. Battery's expected life should provide you with up to 40 hours of listening music, 10 hours of talking or 498 hours in standby. The camera is not exactly stunning, but with a 5 MP sensor, the option of taking HDR images and 30 fps 720p HD video, it is more than adequate for most users.
Software and Features
Xperia M C1905 comes with Android 4.1 Jelly Bean, modified by the Sony's skin. You will be getting most of the Sony's apps, and the skin itself is quite convenient, adding some usability to the Android's base. One of the distinguishing features of Xperia M C1905 is the NFC (Near Field Communication) system which allows for easy file transfer between two phones, making payments, or wirelessly connecting your phone with speakers or headphones, as well as using it as a remote.
If you are looking for a phone with well-balanced features and a reasonable price, Xperia M C1905 should accommodate you perfectly.
About Writer
Samuel Evans is a blogger and writer. Samuel is currently exploring everything related to mobile phones and gadgets.