There was a time when we used to have a brown box at our homes which could display few channels and those were the only source of entertainment for us. But now the time has changed and the television is no other exception.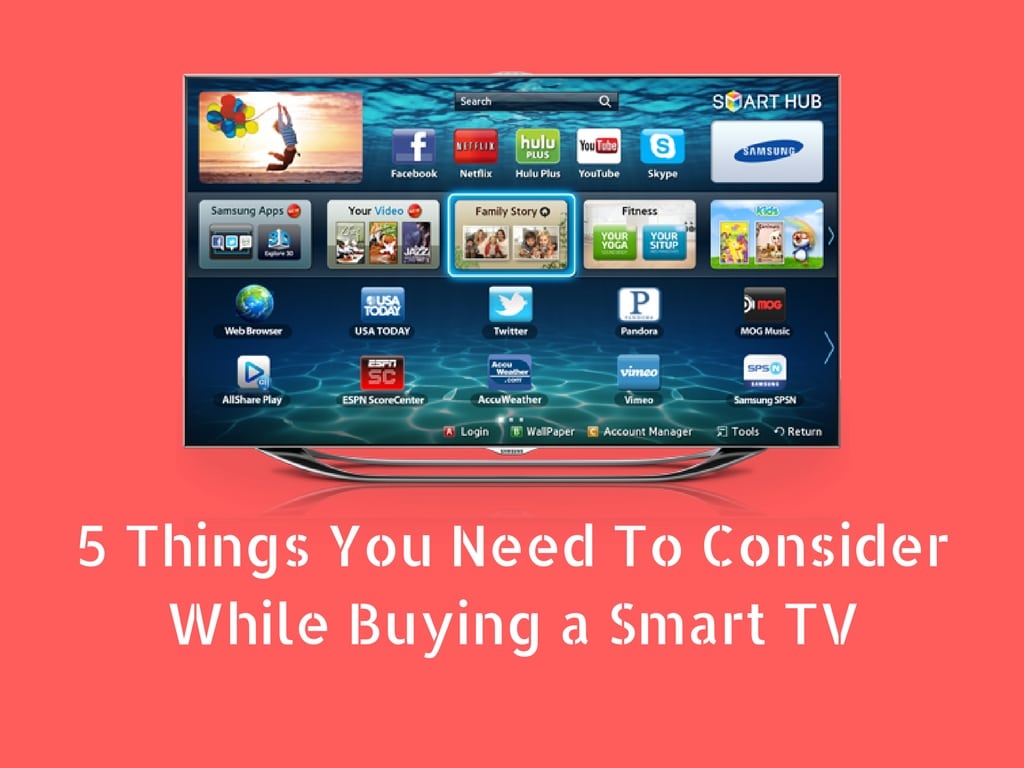 We are living in the 21st century where the evolution has occurred from a big brown box with a curvy screen to a sleek and smart television with a flat screen where we can just enjoy the advantage of sitting on our couch and a click will do all the things for us.
So, let's watch the various criteria needed to be taken care of while buying a smart TV.
Here is a list of the five very important things to make the whole buying process easier and convenient.
5 Things You Need To Consider While Buying a Smart TV
1. Which type of TV you want to buy:
There are different types of television available in the market. It can be a plasma display, LCD, LED, OLED, HD (High Definition) or UHD (Ultra High Definition). Each of these types has different screen resolutions. For instance, in plasmas, the color output and dark levels are better as compared to LCDs or LEDs. But if you want brighter and vivid pictures for yourself, then to consider LEDs is a better option. LCDs are also a good option as it has a good resolution and image quality.
Before buying the television, you should test the view on each of the types. Also, the price of the television is determined by the different types of features. So, keep a check on your budget while going to the store.
2. Sound quality:
Imagine you buy a new television which has an amazing outlook with such a beautiful screen and high resolution but the sound is not up to the mark. How do you feel? Obviously, you will feel angry. So, you should take care of the audio output before buying a Smart TV.
Check if the audio output and the sound quality are good enough for you or an extra home theatre system is required for the same. Sound creates an impact while watching TV, so consider this as an important step before buying a television.
3. Connectivity:
Everyone wants the best features while buying a smart television. Connectivity and compatibility with the different devices is an important factor to decide whether to buy a particular television or not. Some of the latest features which are present in smart TVs are USB ports, Wi-Fi connectivity, Apps connectivity, HDMI ports etc.
4. TV Brand:
The huge TV ranges have been displayed by Samsung and LG as they offer multiple features and hence are the leaders of the television market. You can also consider Sony and Panasonic as they also provide good features and services but they offer small ranges. Toshiba, Sharps, and Philips also provide budget friendly TVs.
5. Budget:
Last but not the least factor is the budget. Keep the price range in mind while buying a smart TV. The range of the televisions varies from Rs. 27999 to Rs. 89990. Hence, consider the best television under your budget by considering the important factors stated above.