Mobile marketing is quickly becoming an integral part of any serious organization's marketing plan. It seems like everybody has a smartphone and mobile sales are rising every single year. If you want to keep up with the competition, you must start to get serious about mobile marketing yourself.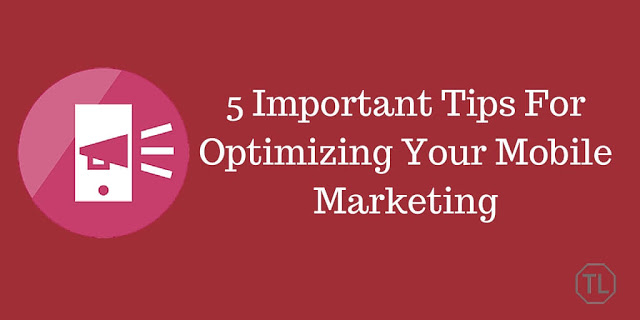 To help you out, here are five important tips on how to make sure you're leveraging mobile marketing effectively:
Don't Treat Everybody the Same
The best way to really excite and engage your audience is by giving them relevant, personalized content. In order to do that, you need to know something about them. Use all the information you have about your prospects to figure out what they're interested in and where they are in your sales funnel. After you have segmented them appropriately, you'll be able to create and introduce content that's valuable and meaningful for them, whether it's via text message, push notification, email or
social media channel
.
Send Your Messages When They're Most Effective
Even the most valuable text messages will get overlooked if you aren't sending them at the right time. You have to understand your audience and the content you're sending and figure out when it makes strategic sense to deliver it. If it's a daily promotion, for example, you should send it as early as possible so that they'll have time to redeem it.
According to a recent study, here's some useful information about when mobile messages should be sent:
Mondays tend to have the lowest success rate since everybody is just worried about starting their week.
Don't send messages during a typical rush hour, which is between 6:30 and 8:30 in the morning and 4 to 7 in the evening.
Text messages are most successful during typical business hours.
Web and application-based messages are most successful during the early evening right after people arrive home.
Encourage Live Registrations
Using an automated SMS platform allows you to attack mobile marketing in a scalable, manageable way. One great option it provide is the ability to manage a database that incorporates a variety of sign-up methods. If you have a physical location, you should be encouraging all of your customers to register for mobile text message updates.
If your business is entirely digital, you can still encourage additional subscriptions by using a web-based form.
Don't Overlook Mobile Applications
One of the most powerful ways to harness the power of mobile marketing is by targeting mobile applications. If you're able to develop a mobile application for your audience that provides value, it can keep them extremely engaged. In fact, 79% of all people in the U.S. who own smartphones use their applications every single day. A great mobile application gives you the chance to become a part of your customer's daily life.
Another way to harness the power of mobile applications is by targeting relevant, popular apps in your audience and advertising in them. It's a great way to drill down into a target market so you don't waste paid clicks on poor fits.
Make Mobile Promotions a Priority
If you start offering mobile coupons and promotions, you'll increase sales immediately. It's that simple. 2015 was the year of the mobile coupon. Companies found that customers who were sent coupons via text message redeemed them 10 times more often than customers who printed them out online. Beyond that, research found that half of all American consumers decide to make purchases immediately after receiving a mobile coupon.
Best of all, text message coupons are significantly cheaper to distribute than other promotional methods. Simply make sure you're aligned with the right partner and you'll be ready to generate more revenue and push marketing costs down.
What's Next?
What do you think of what I've covered so far? Will you adopt mobile as your tool for communication? I would love to read your comments below.
Author Biography