Have you ever witnessed a slower PC even with fewer applications opened? When you open task manager and noticed that "Antimalware Service Executable" is taking up More CPU, RAM and even 90 to 100% of your disk as shown below.
Don't worry about it.
We have some solutions to solve this CPU hungry process. But why that process is actually running on my Windows 10 PC?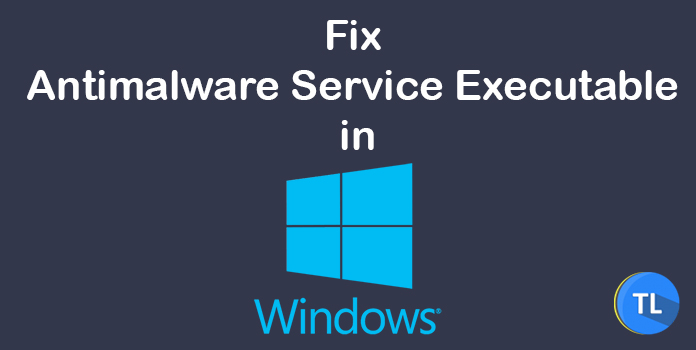 What is Antimalware Service Executable?
Well, it is actually the Windows Defender which is inbuilt antimalware software for Windows 10. It is also known as MsMpEng.exe. The only reason Antimalware Service Executable service running in the background is to scan your Windows 10 PC for any malware and spyware. It just works like every antivirus software. It will provide security but this scan will also take a lot of CPU resources to do the scan which will slow down your PC.
You can even notice when we expand Antimalware Service Executable in the task manager as shown below.
Also check: Fix Microsoft Compatibility Telemetry
How do I Fix Antimalware Service Executable taking High CPU on Windows 10?
There are 3 ways to solve this issue which will reduce the consumption of resources on your PC.
#1. Change Windows Defender Scheduled Scan
First, open task scheduler by Windows+R and type "taskschd.msc" and hit enter.
In Task Scheduler, just double-click on Microsoft -> Windows.
Now, just scroll down and you will notice Windows Defender. just on it, which will open its options.
Double-click on Windows Defender Scheduled Scan option Shown in Windows Defender tab.
Now, you will be presented with various tabs and options. In General tab, you need to uncheck "Run with highest privileges" option to reduce its priority.
Next, move to conditions tab and uncheck all the options and hit OK to save changes.
Restart your PC and you can now see that Antimalware Service Executable windows 10 is using less CPU, Memory and disk usage.
#2. Add MsMpEng.exe to Windows Defender Exclusion List
This is a quite simplest method to disable the high usage of that service but has a lot of steps.
First, open Windows Defender Security Center by searching in Windows Search bar or open settings -> Update & Security -> Windows Defender and click on Open Windows Defender Security Center.
Once opened Windows Defender, Click on Virus & threat protection.
Now, click on Virus & threat protection settings.
Next, scroll down until you find Exclusions and click on Add or remove exclusions.
In exclusions page, click on '+'near to Add an exclusion and select process option from the drop-down.
You need to enter the name of the process in the text box provided. Just enter "MsMpEng.exe" and click on Add button.
That's it, now you have added the Antimalware Service Executable to the exclusion list and it will take fewer resources on your Windows 10 PC. Just restart your computer to notice changes.
Also check: Best chrome extensions
#3. Disable Windows Defender (not recommended)
This is the recommended way, as it will completely turn-off antivirus and malware protection for your PC. I don't recommend to try this option unless you have an alternative antivirus or anti-malware software running on your PC.
First, you need to open Registry editor by pressing Win + R and type "regedit" and hit Enter or click OK.
Now, once you are in Registry editor, Browse through HKEY_LOCAL_MACHINE -> SOFTWARE -> Policies -> Microsoft -> Windows Defender Antivirus.
In Windows Defender Antivirus, you need to add new value by right-clicking on empty space on the right side and click on New to select DWORD (32-bit) Value.
Just rename the created key to DisableAntiSpyware.
Now, double-click on the newly created key and change the value data to 1 from 0 and click on OK.
Just, restart your computer to see the changes. That's it, you have permanently disabled Windows Defender and if you want to enable it back then just follow the same steps and change value data to 0.
After you followed any or all of the methods mentioned. You will able to avoid the Antimalware service executable from taking all your PC resources. You can get the similar result as below image after following the above methods.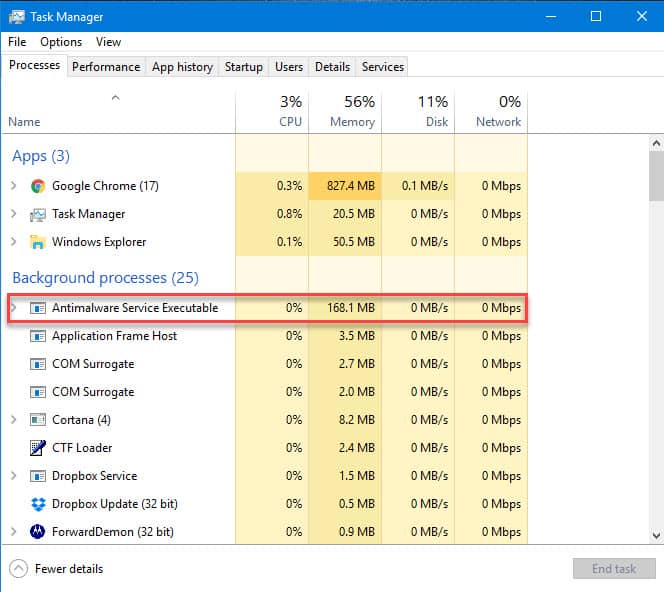 Hope, you liked this tutorial. If you have any issues after following these methods the comment down in comments sections. I will try my best to solve your issue.