We all love to capture precious moments of our life. You can take photos but it will never be that great as recording a video. 4K video recording became mainstream these days with the increase in the smartphones which supports 4K recording.
Everyone wants to capture videos in 4K. Yes, you can now get a smartphone, camera etc to record a 4K videos but there is another side of this story.
4K videos are crisp and capture more details and colour but as they capture a lot more information than a traditional Full HD or HD videos will drastically increase the size of the video.
Do you know that a 5-minute 4k video will be as much as 500MB? That's too big and we can't store such big files on our smartphone or any camera when we shoot long videos or more videos. Another thing is, some 4K videos can't be played on any device or we can't edit some 4K videos.
So, what's the solution?
Well, to reduce the size of your 4K video, you need a compression software and to make your video play on any device, you need to use a converter. By compressing your videos, you can save a lot of storage and easy to maintain.
Wait! what if you have one software that can do those 2 jobs? Cool right?
There are many software to do those things but it's slow to compress and convert videos with them. You need the fastest one to do that.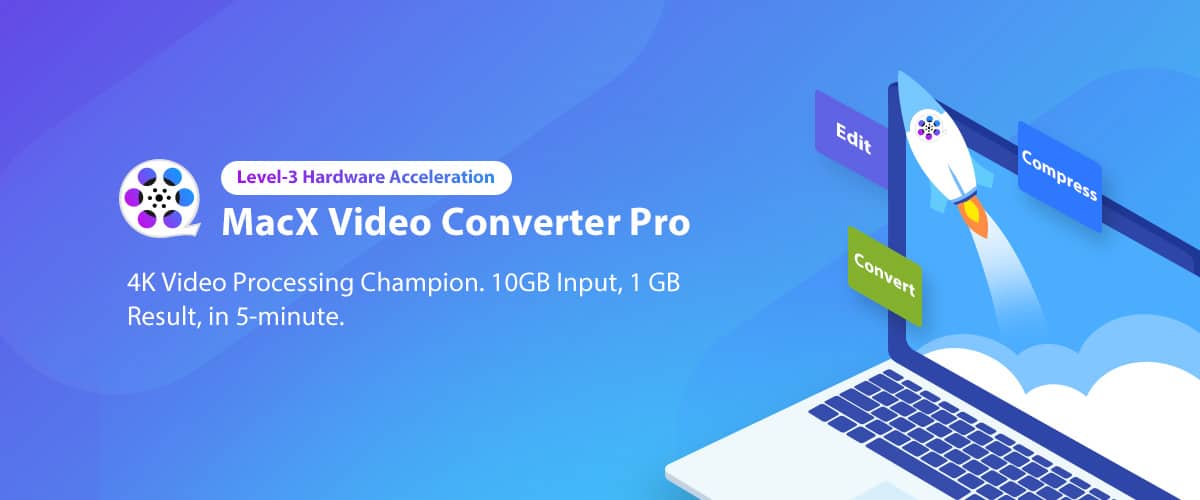 MacX Video Converter Pro is the one which can do your 2 jobs and even more very quickly.
What is MacX Video Converter?
MacX video converter pro is a 4K video processing software for Mac which will help you compress, convert, edit your videos very quickly.
MacX adopts the High-Quality Engine, Deinterlacing tech and Auto Copy Mode
to ensure the original output video quality. It can convert your videos to a wide variety of formats and devices.
MacX video processing is blazing fast compared to the other in the market due to its unique acceleration techniques to speed up the process.
Why is MacX Video Converter Pro so special?
Speed
As i already mentioned the speed of MacX video converter, it is done using Level-3 hardware virtualization. What it basically does is once a video is submitted for compression then it will be handled by the CPU and CPU will separate data and send the compressed video to GPU.

From here, GPU will do the compression and CPU will be quite idle. After completion of the task, GPU will inform CPU and CPU will handle the rest and outputs the compressed video.

This whole process is very fast and done 5 times faster than the competition.
Lossless video compression
It can convert your video smoothly to any format without quality loss because of its high-quality engine and deinterlacing technology. This is also applicable to 4K videos and that too done quickly. You can adjust the output quality with adjustment parameter to get your desired quality video output.
Download Videos from various sources
You can download videos from various sources such as Youtube, Vimeo, Facebook etc and you can select the quality and size before downloading. Its quality detection engine is fast and videos are download at maximum download speeds.
Record Videos
You can even record your Mac screen very easily. You can record full screen or a part of the screen without you need to have a separate screen recording software.
Edit Videos
You can even edit videos with MacX video converter pro. You can do editing such as Trimming videos, cropping videos, merging multiple videos into one and add subtitles. You can almost all basic video editing with MacX video converter pro very easily. You can even play with video resolution, codec, bit rate, frame rate, aspect ratio, and more.
Survey: Take a  1-minute simple survey about video shooting to win GoPro, travel folding tripod, portable charger and MacX Video Converter Pro.
Final words
Overall, MacX video converter pro is a best 4K video processing software that will do more than what you expect. It can do video processing 5-times faster with its 3-level hardware acceleration. You can download videos, record screen, and you can even edit your videos without any additional software. It's a simple, easy to use, and feature-rich video processing software.