We all use smartphones and we have many apps and files in our smartphone. We also know Android is already secure and you don't need to worry about security.
But wait…
Yes, Android is secure but there are some things Android can't do such as file scanning for checking malware and blocking web related threats like phishing. There are even many things which Android won't do.
I will explain what a good antivirus app can offer but we first need to know the best antivirus app. There are many apps out there in playstore and it's hard to decide which is most secure and useful.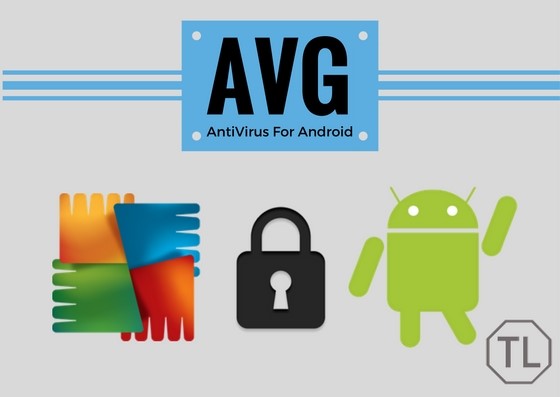 Don't worry, we are here for you to help to choose the best antivirus app. We will explain about the most trusted and powerful antivirus app called AVG Antivirus which is a free antivirus for Android mobile.
AVG always considered as one of the most powerful antivirus software for PC, Mac and now for Android also. It will provide top Android security for your smartphone.
We will explain some of the most powerful and useful features AVG Antivirus for smartphone will offer.
1. Powerful Antivirus Scan
AVG Antivirus for Android is basically an antivirus software which is well known for its complete protection. Here in Android, it will scan the malicious apps, files, malware and spyware by going through the entire device including storage.
It not only scans for the threats but also helps you to secure your device by detecting unsecured settings you have on your smartphone and helps you fix it.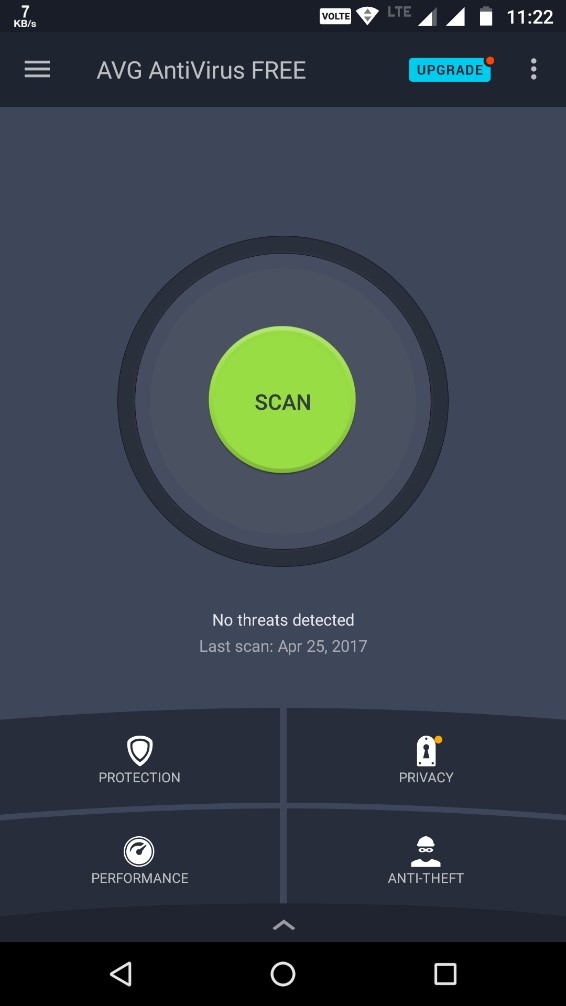 Just click on the scan button on the home screen and AVG will scan and detect the unsecured apps, files, and settings.
For example, if I turned on "Allow installation of apps from unknown sources" then when I run a scan it will detect that unsecured setting and help me to fix that. Overall, it is very is easy to use and powerful with in-depth virus and malware detection.
2. Anti-Theft Protection
Anti-theft is a must have feature for any smartphone but sadly it's not available inbuilt for Android smartphone.
Good news is its available with the AVG Antivirus for Android. It's easy to use and various options available to track and do some tasks on the stolen device.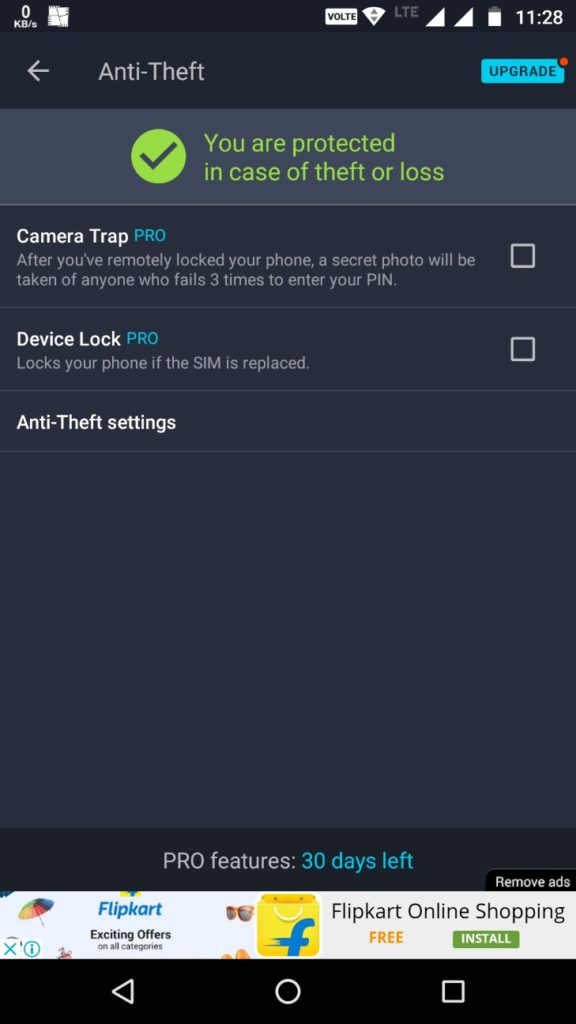 You can find the Anti-Theft feature in the sidebar menu or on the homepage. You need to sign in to enable this feature. After login, you will see some options like Camera Trap, Device Lock and Anti-Theft settings.
Camera Trap will capture the photo the person who failed to enter a correct PIN for 3 times and Device Lock will help you to lock the entire device if the SIM is replaced by a new one.
Enable both Camera trap and Device Lock options.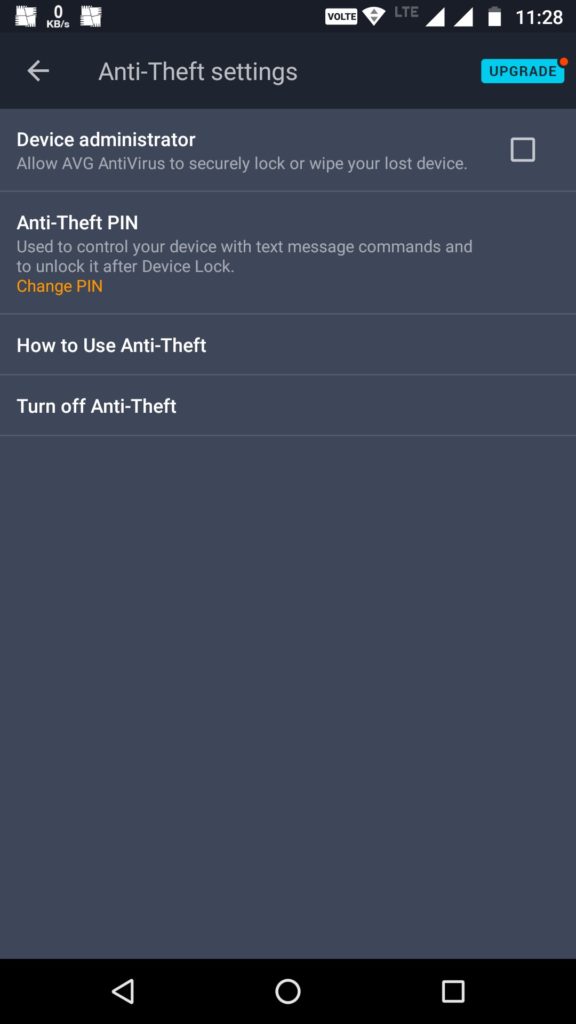 Now in the Anti-Theft settings, you need to turn on device administrator permissions and if you can set/change PIN.
To use the Anti-Theft feature, there are two ways; by visiting website  http://m.avg.com/anti-theft or by sending Text messages which is used as commands.
3. App Lock
It also has a most important feature called App Lock which lets you lock your apps on your smartphone with some simple steps. So, you don't need a third-party app lock to do this job.
First, click on app lock from the sidebar menu or just click on App Lock by tapping on privacy and you need to set a pin for that.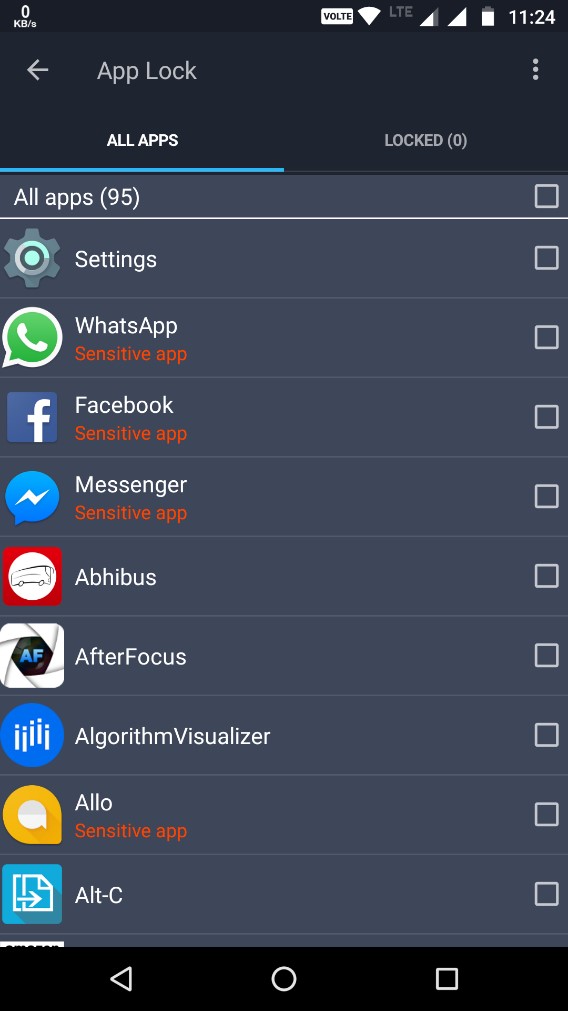 You will now shown a list of apps, just check apps which you want to lock and those apps will now ask for a pin when you open them. This is as simple as that.
You can check all your locked apps form Locked apps tab.
4. Vault
This I the most interesting feature which lets you hide your photos from others by adding them into the AVG Vault.
To access the vault, all you need to do is pen the sidebar menu where you will find Vault and you can set a pin for the vault.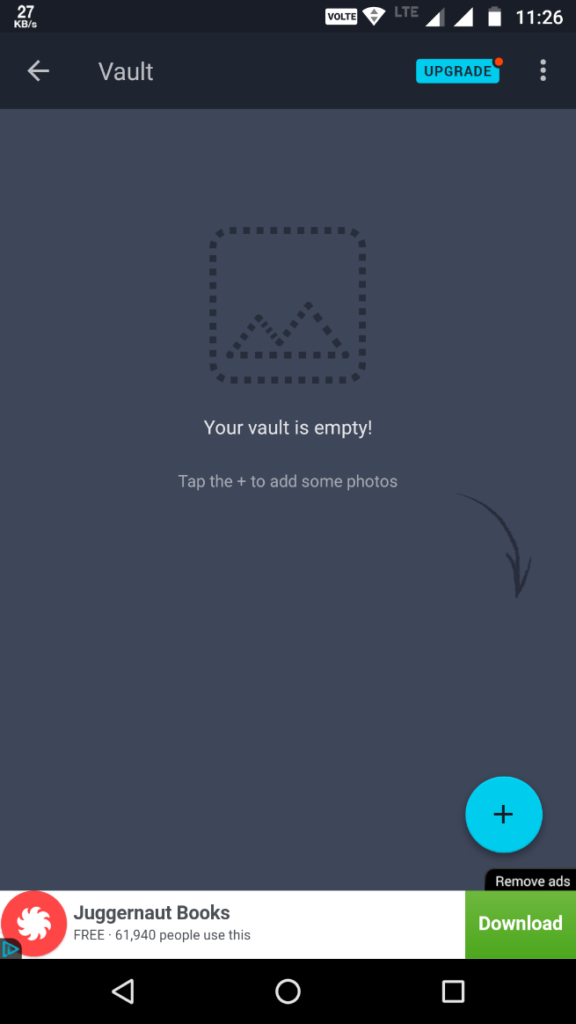 Now, you can import your images from your Gallery and all the imported photos will never shown outside of vault and only available in the vault app.
So, you don't need to have a third-party app for this purpose. ?
5. Wi-Fi Security
Wi-Fi security is useful to detect any kind of network encryption issues, password strength, Captive portal and ARP Poisoning.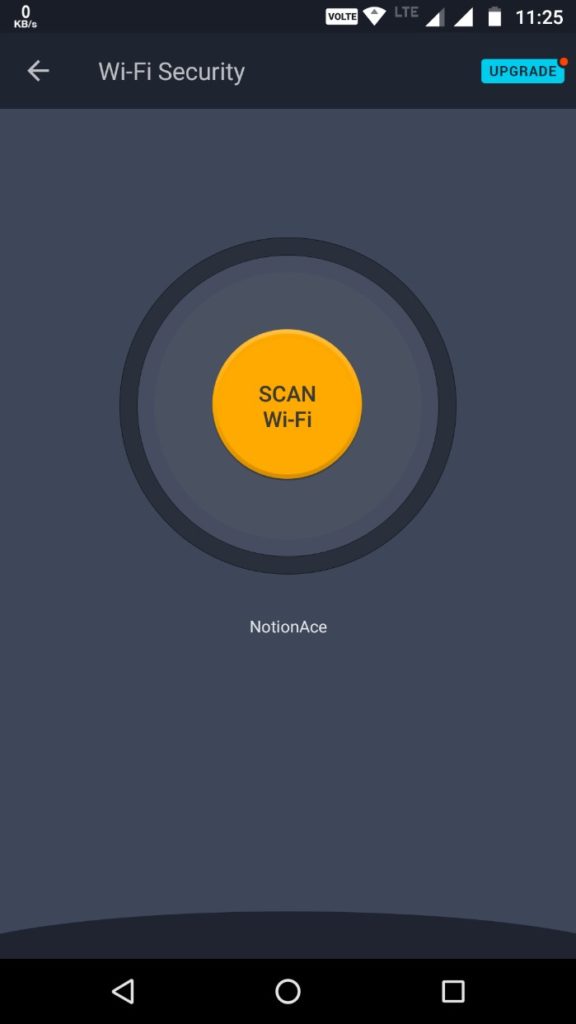 This feature will help you secure your Wi-Fi connection by detecting threats and warn you about them.
You need to goto Wi-Fi Security and run a scan which will detect all the Wi-Fi related security issues.
6. Task Killer
Task Killer is a most wanted feature and the name itself suggests what it will do. It will kill all the unwanted background apps running to speed up the device and save battery.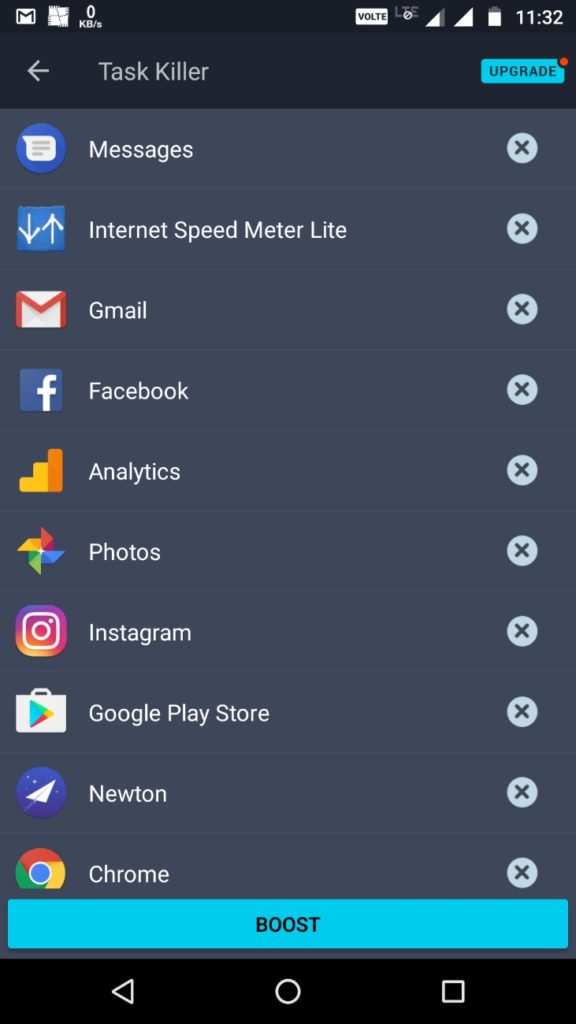 Just Open Task Killer and you will show all the background apps. Just tap on "Boost" which will kill all the background apps and free the RAM and improve the speed of your device.
7. Battery Usage
This feature will let you view your battery statistics and do some tweaks. When you open Battery usage option, you will see two tabs named Power Saving and Time Remaining.
Also in the Battery usage screen, you will the Temperature, Status and Health of your battery along with battery percentage.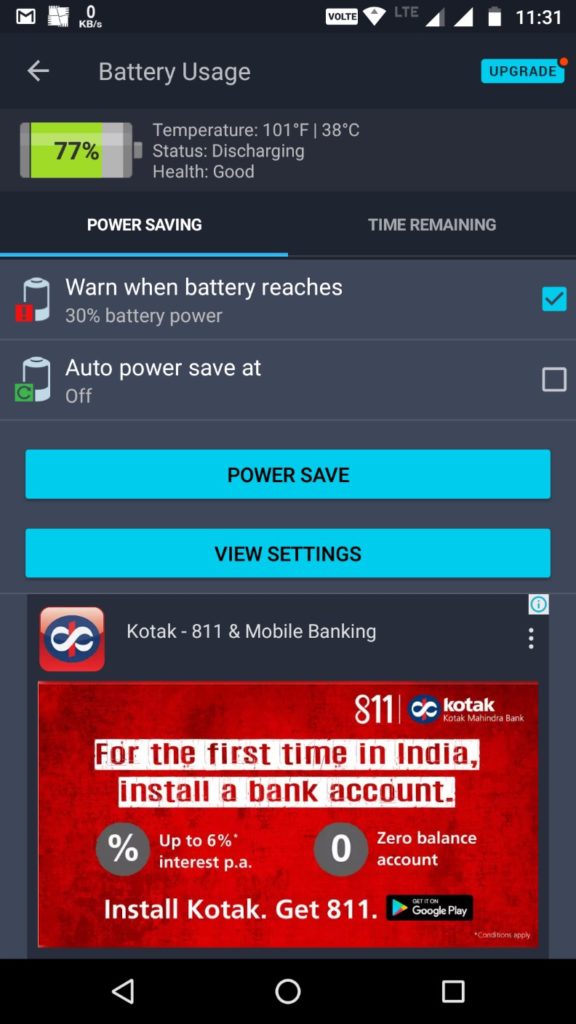 In Power Saving tab, we have two options; Warn when Battery reaches and Auto Powersave at will help you to get an alert or turn on power saving mode when the battery reaches certain percentage like 10%, 30%, and 50%.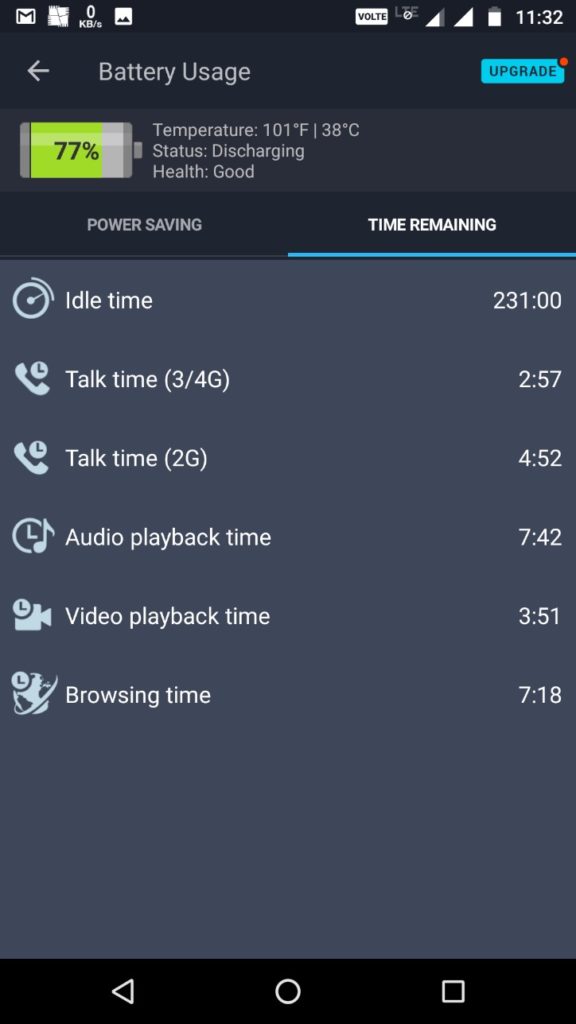 In Time remaining tab, you will be shown Idle time, Talk time, Audio playback time, video playback time and browsing time remaining on your smartphone which is not exact but an estimate.
There are many other features such as secure web browsing, Data usage, and Boost charging etc. which are worth considering.