The Internet is full of dangers but, luckily, you can keep the threats at bay with clever use of technology. While antivirus programs and other such software are essential, you can protect yourself with another simple trick: having great passwords. In order to ensure you're using the right types of complex and unique passwords, you should consider getting a password manager. So, what are the year's best password managers and why should you really get one?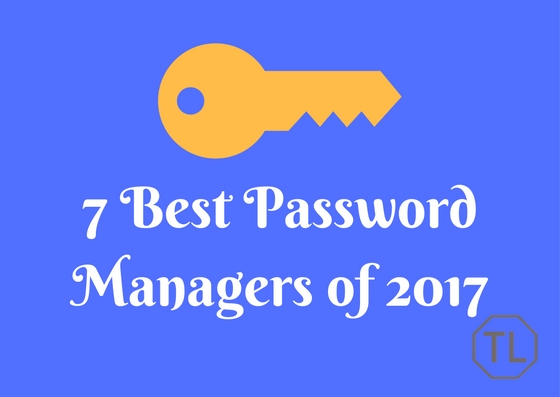 Why getting a password manager is a good idea?
You might be wondering what you do with a password manager and how can it strengthen your online safety. Well, we tend to have plenty of different online accounts and profiles and you're not supposed to have the same password on your accounts. But staying on top of all your passwords can be tough. Password managers can help create unique and complex passwords and help you remember them for all of your accounts. This will mean you're less likely to suffer from data breach due to stolen passwords. All you need is to remember one 'master' password of the password manager and the rest will be done for you.
So, which manager should you get?
Best Password Managers of 2018
1. LastPass
LastPass is one of the best password managers and this is largely down to it being affordable and offering a variety of configurations. This guarantees you can personalize it according to your needs. There's also a free version available, which offers quite a good level of features – if you're not a business user, it's probably sufficient for you.
Furthermore, LastPass works across all major platforms and you don't even need to download it onto your computer. The software can be used as a browser extension.
2. True Key
Now, for anyone looking for the next big thing in web authentication and security, True Key is the password manager to get. There are six different ways you can authenticate the manager to use your passwords, including fingerprint and facial recognition. The software is definitely modern and it's quite easy to use as well. The software's six authentication options also make it feel that extra bit more secure. Perhaps one criticism is the lack of auto-fill on forms.
3. Dashlane
One of the great features about Dashlane is how you're able to reset all of your passwords at once. If there's been a major data breach, you won't be working against the clock; just reset all of your passwords in a second and you're done. The software is also easy to use and it's well designed. However, the price tag on this product can be a bit expensive and you'll only be able to use it as a web interface.
4. Keeper
Keeper is a rather solid pick as a password manager. The interface is user-friendly and you can even use it for storing files and documents. If your phone has a fingerprint reader, then this is a good app to use. However, you won't be able to set a PIN for quick access on mobile and this can be frustrating when you want to access your accounts quickly.
5. 1Password
For those using Apple's operating system, iOS, 1Password is a good choice. The Mac version is full-featured and the configurations are relatively straightforward. The subscription plan is also great for those using multiple Macs. Another strong point is the auto-filling ability. However, if you are using Windows or Android, you want to skip this one, as the features are not there and the pricing can be quite complicated.
6. KeePass
KeePass is one of the oldest password managers and it definitely packs a punch. There are endless customization options and you can carry the software around on a USB thumb drive if you want! For those looking for something powerful and who aren't afraid of the tech stuff, KeePass is the manager to go with. However, if you're not the world's most tech-savvy person, you probably won't enjoy this one.
7. Sticky Password
Finally, if you're not too fussy with the design of the password manager, Sticky Password is a good choice. The web application is not the most professional looking and you won't be getting any additional treats with this one. However, it's not too expensive and you can synchronize your information locally or in the cloud. It's also recently included a two-factor authentication so it does feel rather secure to use.
When it comes to picking the right password manager, keep in mind how you want to use it. Do you want something in the cloud or a physical download? You also need to consider the additional features, such as filling forms or storing files.
If you want to add that extra layer of security to your online use, you should consider opting for one of the above password managers. They are the top choices in 2018 and will make your life just a little easier.