You have heard of many coupon and deals sites so far. There are many coupon sites present on the internet and they are still growing and it will be so tough to stick with a single coupon site for all our needs.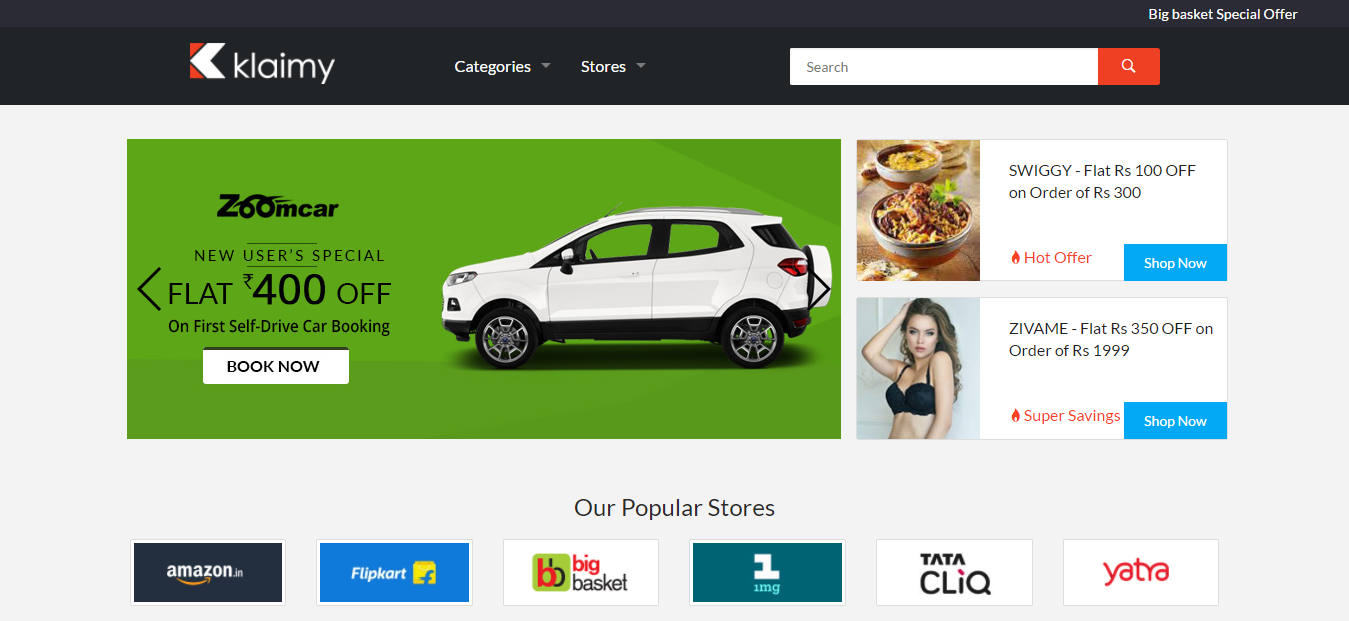 Coupon sites are becoming more user-friendly these days and it's a really a good move but there is something that needs to be changed. Many coupon sites have lots of pop-ups and ads which makes the site load very slower. This will irritate the user and the user will leave the site which is the loss to both user and couponing company.
Klaimy is one those sites which focus on simplicity and user experience (UX) along with updated fresh coupons and deals.
Klaimy Review
Following are some things which we need to consider to have a Klaimy.
1. Minimalistic Site Design:
Klaimy is well designed and looks very minimalistic by taking into the best User experience practices. The site loading time is really quick which loads in no time even with average internet speed.
Most coupon sites which have lots of anonymous ads and popups will literally take a lot of time to load and waste the user time but Klaimy is not one of them.
I already said that Klaimy is really user-friendly which also makes the navigation a lot easier with the perfect organization.
When you open Klaimy we will see a homepage which has trending offers and deals of today which mean this offers and deals will be updated daily with new ones. This will be really useful if you are looking for latest deals so that you won't miss out any trending deal.
3. Diversified coupons at one place
Even though Klaimy is new coupon site but I'm really surprised to see a large number of coupon database they have even at the launch of their site.
Klaimy supports almost all e-commerce sites and you won't be disappointed with the availability of the coupons. You will find some coupons of popular sites like Amazon, Flipkart, Jabong, Snapdeal, Nearbuy and many other sites.
4. Verified Coupons
Get verified coupons is a tough job as most of the coupon sites have expired coupons and this will waste our time. We need to have a coupon site which only posts working and verified coupons every day to save our money.

In this case, Klaimy won't disappoint you by posting expired coupons. They post verified coupons and deals with a verified tag on each and every coupon and deal they post.
You will get all the updated and verified coupons every day on Klaimy and no more need to worry about whether the coupon is working or not.
5. Powerful Filters
Klaimy has simple but powerful filters which make your coupon search easy. Are you looking for the coupon of a particular category of product then it will be easy to search in Klaimy.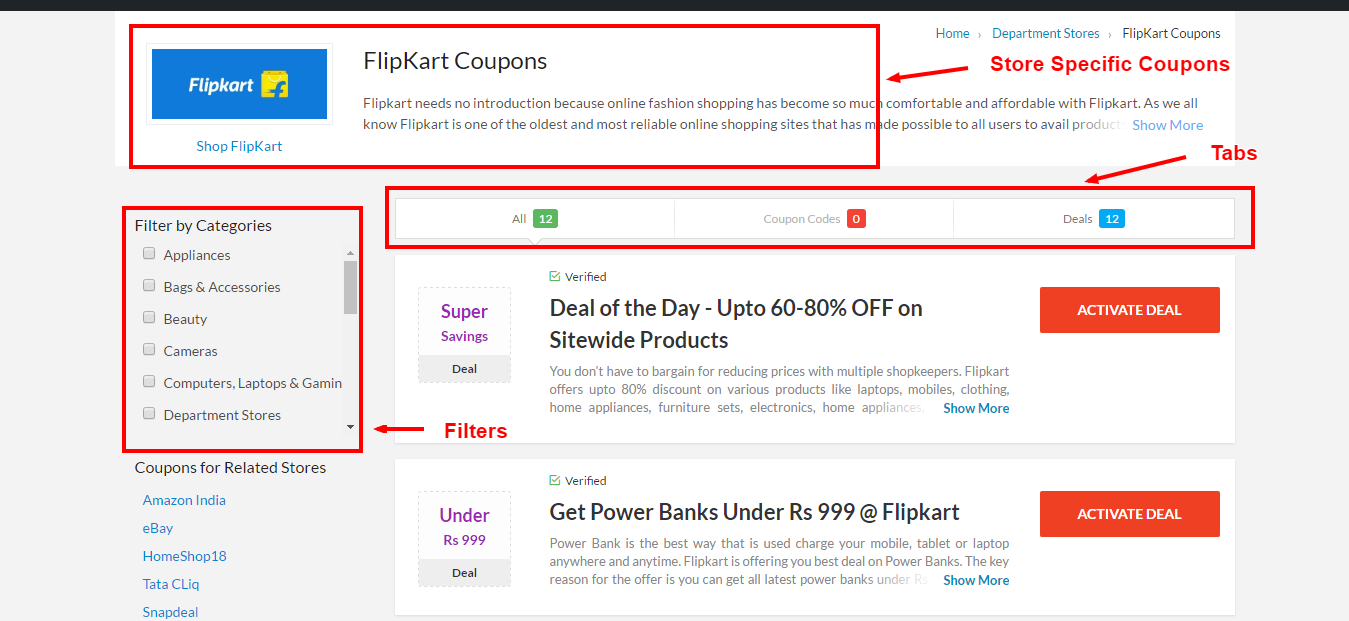 Klaimy has a functionality to show store specific coupons and you can even filter more in that store to get the coupon of the exact product category. All you need to do is headover to any of the store such as Amazon, Flipkart etc and you will find filters to the left sidebar and a tabs for all coupons//deals, coupons and deals.
For example, if i need to search coupons or deals on books in Amazon i just go to amazon store in Klaminy and check the Books filter as shown below. Then it will show only Books related coupon or deals as shown below. This is very easy, right?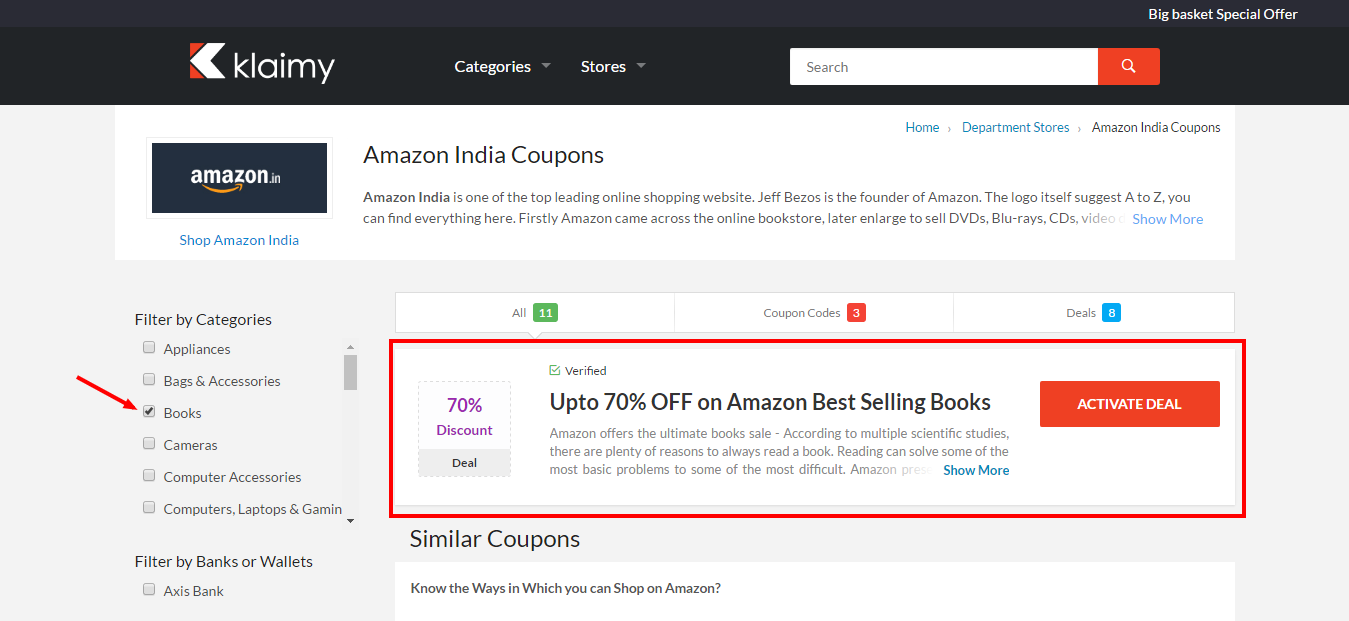 Final Verdict
Klaimy is one of the best sites which focuses on verified coupons, deals, and the minimalistic site design which makes the navigation very easy. This coupon site is very user-friendly and doesn't compromise on powerful feature a coupon site must have along with powerful filters. You may have already many coupon sites to get your coupons, once take some time to check Klaimy and I hope you will never be disappointed with this site.