Bluetooth Special Interest Group (SIG) recently announced the new Bluetooth version "Bluetooth 5.0" which will be available very soon. There is no particular date confirmed officially but this version is going be major update to previous Bluetooth version with really some exiting features as expected for 2017. So, want to know more about. Then read on.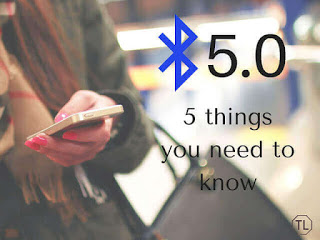 1. It will be Faster than Before
Bluetooth 5.0 is major Bluetooth update, so developers claim that it will be 2X faster than Bluetooth 4.2 LE. There are significant improvements in performance and speed underneath. Which means Bluetooth 5 will have transfer rate of 2 mbps (Roughly :)).
2. It will work even for wider ranges
It will work wider range than its previous version. Bluetooth Special Interest Group (SIG) claims it have 4 times the range of its previous version and data broadcasting capacity will increase by 800%. So, now you can transfer date even the other person is at longer distance. This is really a major improvement over previous version.
3. You need a new Bluetooth Hardware
To avail the features of the new Bluetooth version you need to have an improved hardware which is not officially announced but you really need new hardware. Although the older Bluetooth devices will never see any changes when other party has Bluetooth 5 device. Both the devices must have Bluetooth 5.0 compatible hardware to make it work.
4. It will be more location aware
This is really a good news; it is going to have extra navigational features so that data transfers can be done indoor in a particular workspace or environment. For example, you can send files to the person in a hotel.
5. It will be available soon
Bluetooth 5.0 is going to be launched late 2016 and early 2017. You need to wait to see the taste of the new Bluetooth. Meanwhile, you will be able to see the 2017 flagship smartphones will come with Bluetooth 5 installed.