Do you convert an image into a word document or to some other format with just a single click?
Well, not only image, you can convert any PDF or a scanned document to your preferred format without impacting the layout.
If you do have such requirement, you need an OCR tool to do this job.
Here where Cisdem OCRWizard 4 comes into the picture. Before discussing Cisdem OCRWizard 4, let us know about some basic things that will make you clear in using Cisdem OCRWizard 4.
What is OCR?
OCR is an acronym of Optical Character Reader which helps you convert images or any scanned, printed documents to text.
By using OCR tool, you will get a converted text from any image, handwritten or printed document which lets you edit that text as per your requirement.
Why Cisdem OCRWizard 4?
Well, the answer is partially in the question that means it is a tool which is used to convert images, PDF or any scanned document to your preferred format.
But why I said the meaning is partially in question?
I mean it's not just a tool which is not only capable of converting like an OCR tool, but it has more with its power packed features.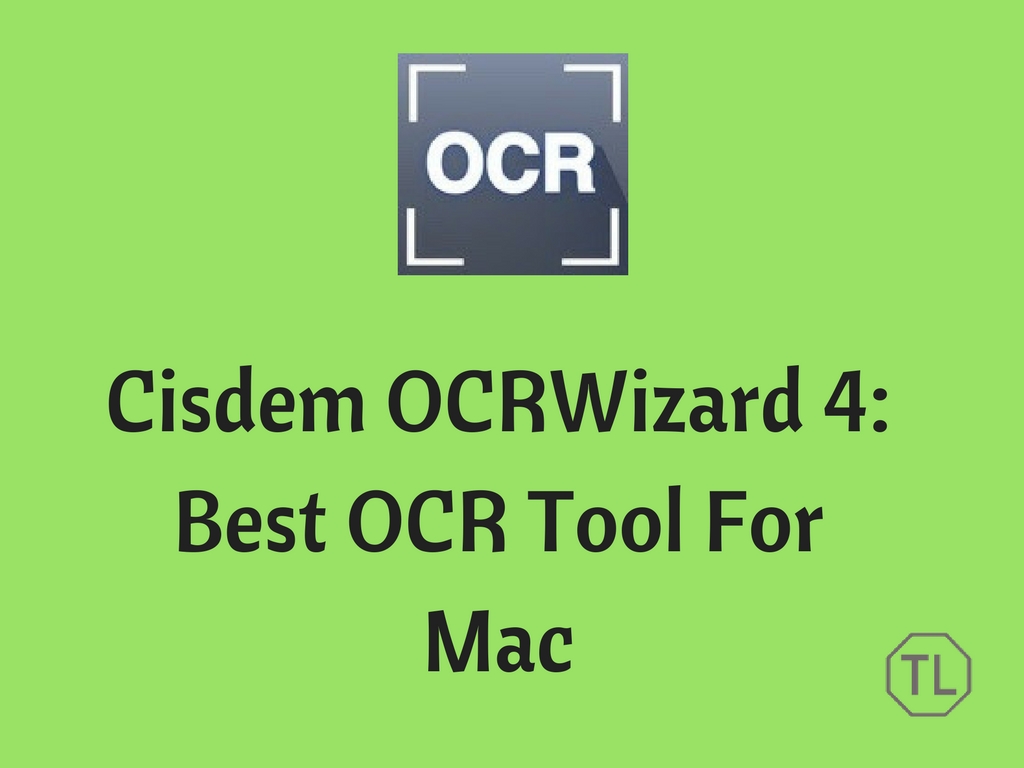 Below are some features of Cisdem OCRWizard 4
It Understands Documents:
Yes, Cisdem OCRWizard 4 has a capability not just to scan and convert images or any scanned document to text, but it also knows what kind of document it is.
If you upload a file into Cisdem OCRWizard 4 then it will first know the document its is dealing with like if you upload an image with some text and image then it will just detect it as document
But if you upload a business card image then here it will now understand that it is a business card and extracts all the data in that business card, and you can event export it as a .vcard file.
Technically, this technique is known as Document-specific processing which processes the imported file and detects it type for optimal OCR conversion results, which is cool.
Original Layout Retention
Cisdem OCRWizard 4 will convert the given file to editable and searchable document without even affecting the layout the original file. You will get the same layout as in the source file as an image to a destination file like document.
Supports Over 40 Languages
Cisdem OCRWizard 4 has the capability to recognize text in over 40 languages and convert that into text. You can find the supported languages list. You can also choose the language of the input document before performing the conversion.
OCR Editing and Correction
With Cisdem OCRWizard 4, you can add, edit and remove a region from the converted document. You can also save your unfinished documents to project files to be used continue next time.
How To Use Cisdem OCRWizard 4?
Open Cisdem OCRWizard, then you will see a welcome screen as shown below.
Now, drag and drop any file like PDF, image or any scanned document which you want to convert as shown below.
Next click on "Recognize" button which is present at top right corner. Then it will detect the file's text and image by different colors as shown below. Here you can add, edit, and delete any region.
You can now export that image into any format as per your requirement. For this example, i'm converting this image into "Doc" as shown below. 
That's it you converted an image into doc file. If you want to convert a bussiness card image into a vCard file then just upload the image into OCRWizard then it will extrat the fields from that image and you can export it as a vCard file as shown below.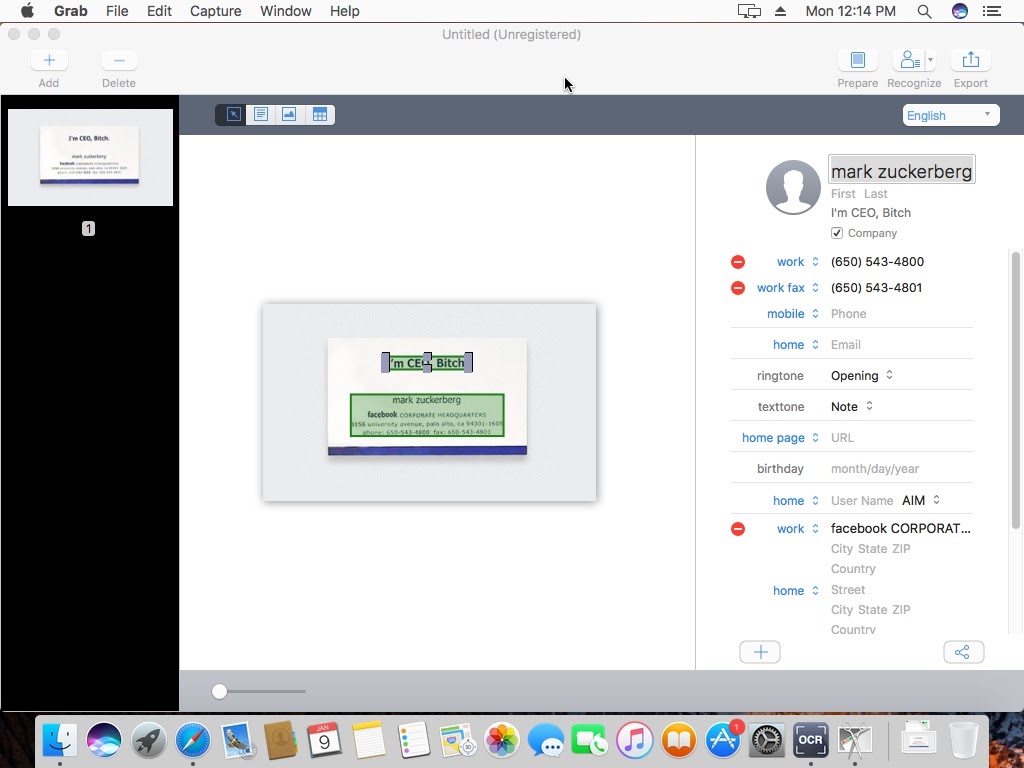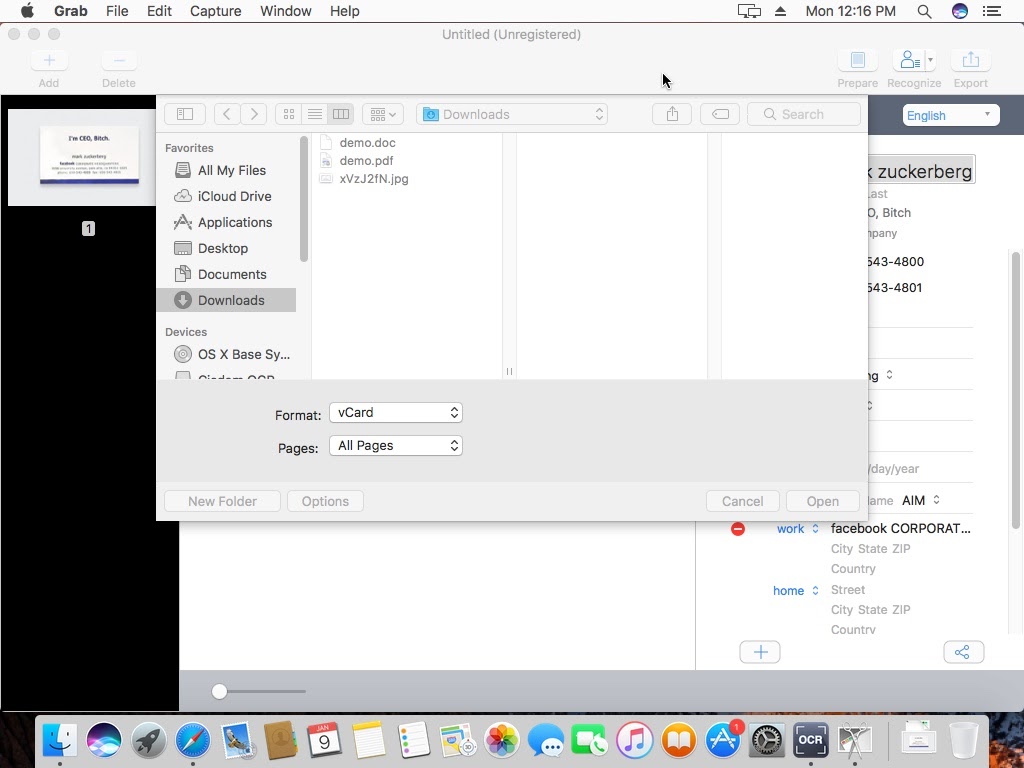 Final Words:
Cisdem OCRWizard 4 for Mac is the best OCR tool which is fastest and more intelligent which can detect any kind of document in 40 languages and convert without disturbing the layout of the input file. You can buy Cisdem OCRWizard from their official website or use its trail version and then buy it.