Are you a student looking for coaching centers? Then you are in the right place. Every student study day and night to crack regular and entrance exams. It is very good to have own preparation but at some point we need a tutor or a coaching institution to make our preparation more fast and easy. Coaching institutions help a student to crack any exam whether it may be entrance exam like IIT JEE, CAT , GRE and many or regular academics such as SSC and any other. But wait, is it easy to find a best coaching institution or tutor? The answer is NO. To solve the problem of finding the best coaching centers and tutors for your specialized courses we have a most popular and interesting website called Coaching Adda. Without wasting time let's get into complete details of Coaching Adda.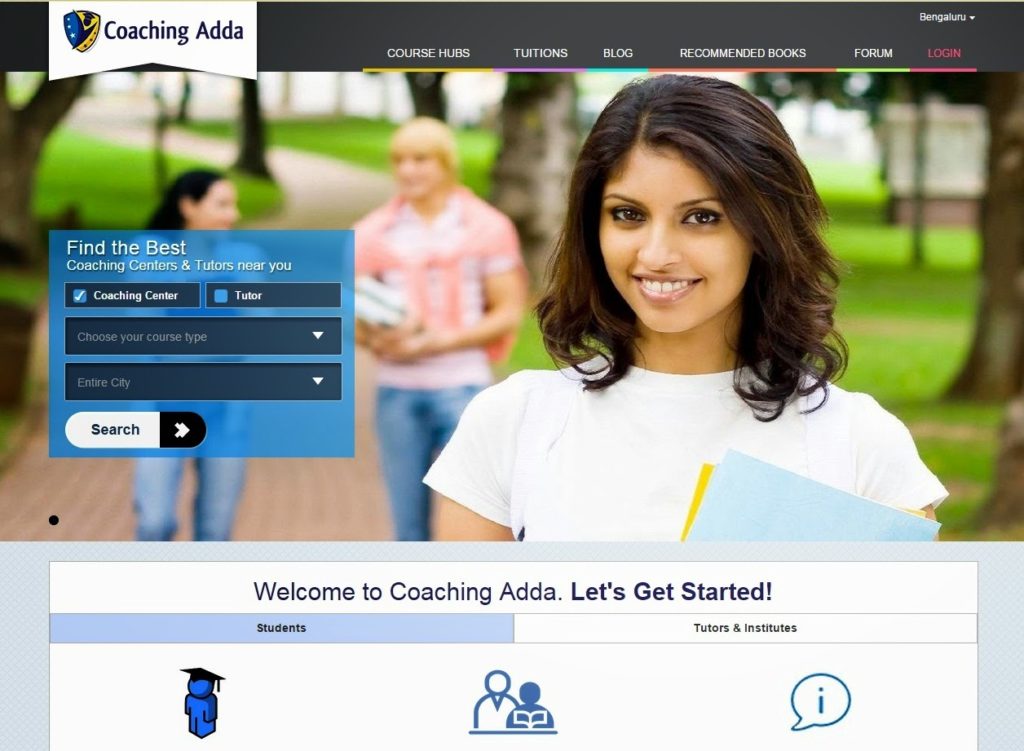 What is Coaching Adda?
Coaching Adda is a one stop solution for any student to find best coaching centers and tutors in India to crack any exam such as entrance exam or regular exams. Coaching Adda is the most popular site which lists 7500+ coaching institutions in 20+ cities in India. Need of coaching centers are growing huge these days
because of the need to crack the most popular entrance exams such as IIT
JEE, GRE, CAT, GMAT, etc.
Features of Coaching Adda
The following are some features of Coaching Adda
Coaching Center Listings
Coaching Centers plays a major role in cracking entrance exams and regular academics because with the help of coaching centers, a student will get complete guidance on best techniques to prepare and crack any exam with minimal efforts. These days it is not so easy to find best coaching centers among the crowd. We need to enquire a lot to know about the coaching centers around us but it takes lot of time and effort, still there is no guarantee that you find the best one. No need to search for coaching institutions from now, just sit and search the best coaching centers in India by using Coaching Adda website. Coaching Adda bridges the gap between student and coaching centers and helps the student to search for the best coaching center. It currently lists 7500+ coaching centers in 20+ cities in India.
Coaching adda provides detailed information about the types of courses, fee structure, faculty, and facilities such as AC classrooms, transportation and many other about coaching centers which every student want to know.
It also allows the students to rate or write reviews for the coaching centers, so other students can find the best coaching institutions depending on ratings and reviews of them.
Tutor and Student listing
Coaching adda not only lists coaching centers but also provides a facility for students and tutors to publish their requirements and reach the right people among the huge list. A student can find tutor who satisfies his/her requirement and in the same way a tutor can find the student.
Blog and Forum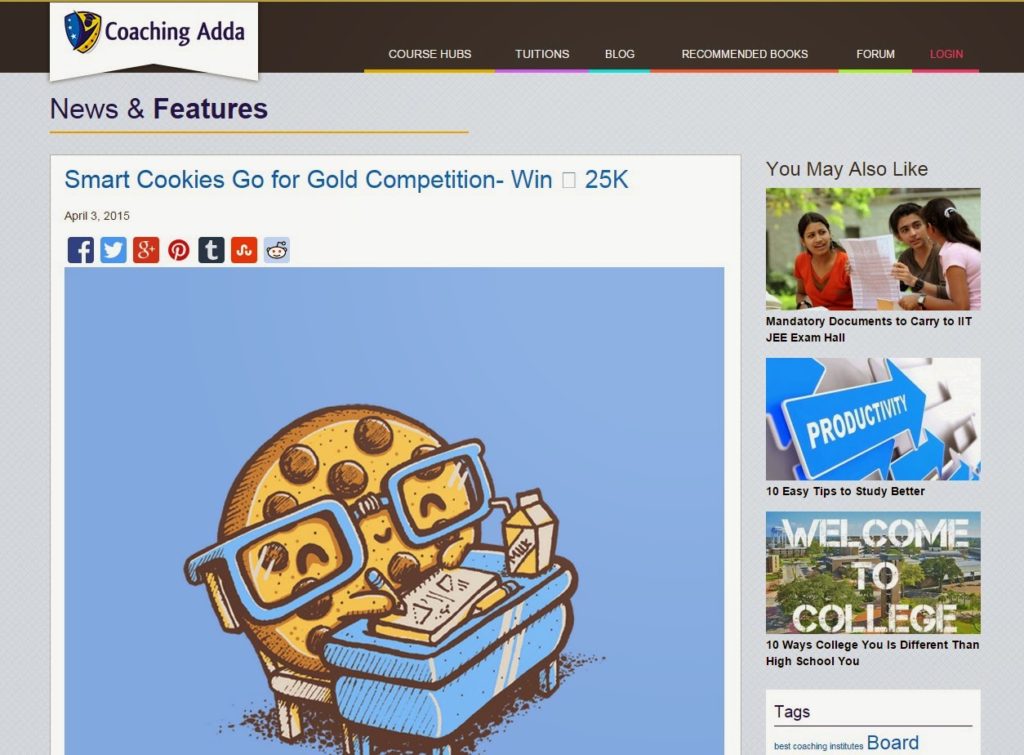 Coaching adda has many other interesting features such as blog and forum. Coaching adda blog provides exclusive information about education such tips to crack exams, choosing best career option and many other and also provides other information required for students. Students can also use their education forum for IIT JEE, GRE, CAT, GMAT and many other exams to get their problems solved and get some suggestions from experts.
Website Creation Service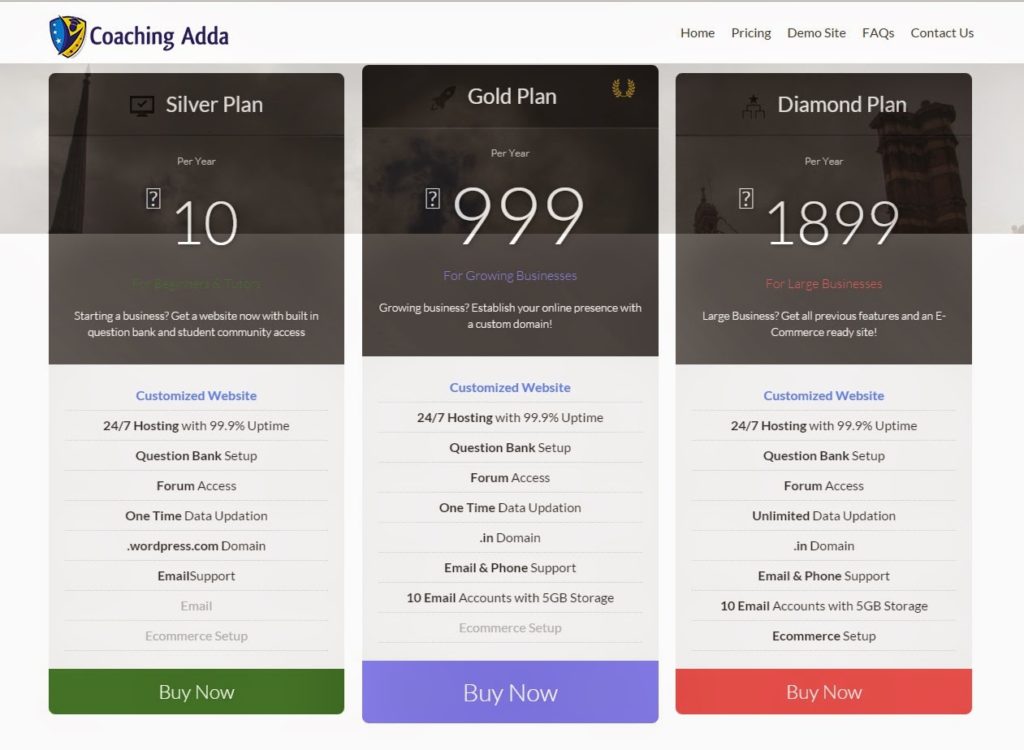 Coaching adda also provides exclusive website creation service through store.coachingadda.com and demo.coachingadda.com which helps coaching centers and tutors to create their own website at affordable price. This is really an interesting feature of coaching adda.
Conclusion:
Coaching adda is really a popular and unique website which helps any student to find best coaching institutions and tutors and get their get more information from their blog and also get suggestions and tips from experts by their exclusive forum. If you are preparing for competitive exams and want to join any coaching institution then I recommend you to visit coaching adda.