This days everything is done online, as technology is becoming more modernized and handy. We have various apps which provides different services and other things. We have apps to book movie ticket, bus tickets, recharges, transportation and many more. Have you thought of mobile app which provides household services? Yes, we have app called Zimmber which can provide all household services at affordable prices. You don't need to search for a service person to solve your household problems from now. Zimmber is their to solve all your household problems. You can
download Zimmber Android app
from playstore.

What is Zimmber?
Zimmber is an online home services platform which solves all your household problems. The services provided by zimmber are like painting, home cleaning, electrical installation or repairs, plumbing services and many more. Zimmber is already popular in Mumbai for its services. Recently zimmber launched an Android app for providing the users or customers to get their services very easily.
Why zimmber?
Zimmber believes in customer satisfaction. The amazing thing about Zimmber is if the customer doesn't satisfied with their services then there is money back guarantee for their services. All the household services provided by Zimmber are very efficient and will be at affordable price. By using this app you can get all your house related services done very fast. You don't need to waste your time for searching for electrician, plumber or other, just download and install Zimmber on your mobile start using their services with a click. All the Zimmber customers are very well satisfied by the services provided by them. This makes zimmber a unique and best household services provider. Zimmber app is developed by zimmber team to make their services handy for their customers.
Features of Zimmber handy services Mobile App
Zimmber provides all the best services which other can't provide. All the services provided zimmber are satisfactory and that too at affordable price. The following are the features of Zimmber mobile app.

Allows to request electrician, plumber, painter, AC repair & service
Easy payment option
Track orders and other details
Transparent pricing policy
Sasfaction o money back
Instant feedback option
Get the estimate about your work
Multiple Address option and many more
Services provided by zimmber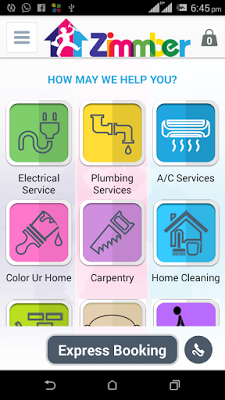 Zimmber provides best in class services. The following are some services which are provided by Zimmber mobile app
AC service and repair
Masonry services
Painting services
Household repairing
Plumbing services
Sofa Cleaning
Carpet cleaning
Electrician services
How to Use Zimmber handyman app?
Zimmber app has a very user-friendly interface. It is very simple to use this app. You can download this Zimmber app from Google playstore. Zimmber app works in three simple steps

The first thing you need to do is select your problem through home service option.
Next step is to checkout and you need to fill your address and also let them know your preffered time to come your home.
Finally you need to choose the payment mode and that's it, everything is done. Just relax.
Conclusion:
Zimmber is the best mobile app for providing services for all your household problems. It is very easy to use and svaes a lot of time. The services provided by Zimmber is satsfactory, so you don't need to worry about quality of their sevice because zimmber believes in customer satisfaction.