In today's world of visual attractiveness on all kinds of media, one would have the desire to come up with videos and other visuals involving his/her own creativity. DVDFab
DVD Creator
proves to be of great aid in such a case! This software can combine all sorts of videos into a single DVD disc, be it camera recorded or downloaded.
It burns different videos into a DVD and can process almost all the common video formats. (MKV, MP4, M2TS, TS, MOV, WMV, WMA, 3GP, FLV, M4V, VOB, etc)
The output can be in formats like DVD-9, DVD-5, DVD+R/RW, DVD+R DL, DVD-R DL.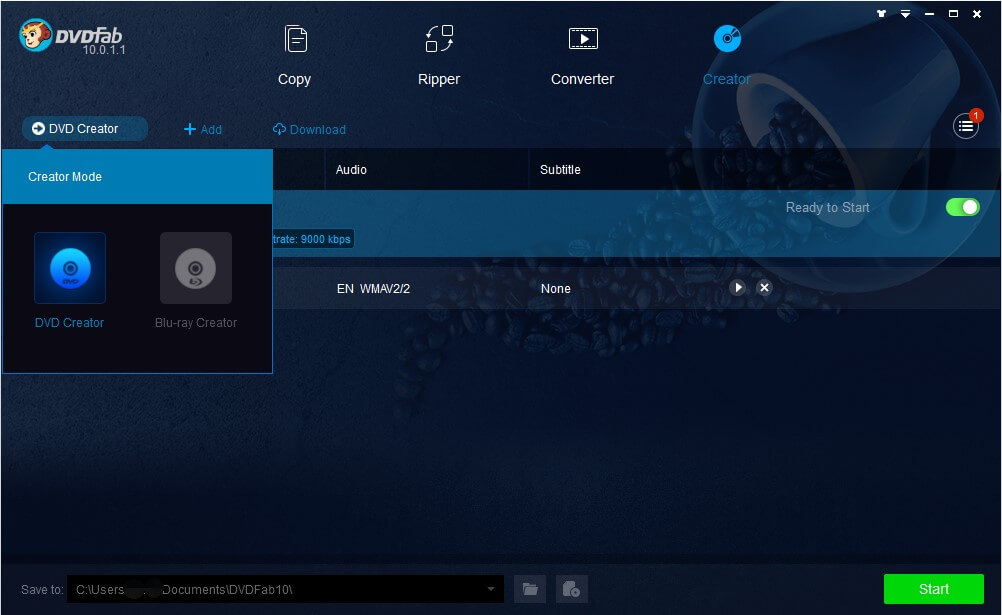 Another commendable feature of this software is that it allows the users to customize their DVDs in any format or style they prefer. They can create their own menu, (font, frame, background) templates etc. The personalization feature makes the user feel a sense of belonging towards their DVD, as it contains various memories put together in the form of a disc. It may consist of clips and visuals from family reunions, vacations, birthdays, anniversaries or even a first date! Moreover, this feature can be used during special occasions to put together various videos and offer the outcome as a gift. It gives a surprisingly good output quality and also provides various playback menu options. This makes the video experience even better.


The process starts with loading the source videos which you would like to burn onto a disc/ISO/ folder. This can be simply done using the add buttons or by dragging and dropping them into the main UI. After selecting the sources, the next step is to choose the output size and the output path. The output path refers to the location in which the videos would be saved. A playback menu may be or may not be selected from the templates, depending on the user's choice. Then, the output DVD is named and the playback mode is selected. The last step in the simple process is to simply click Start. This leads to the final creation of the DVD and it would be burnt onto an empty disc, if inserted. The simplicity implies that it is user-friendly and one would not face many hassles in the process.
However, there are certain system requirements for this software:
This software can be downloaded for free in Windows 10, Windows 8, 8.1, 7 and Vista.
512 MB of RAM or above is required and 10 GB of free hard disk space is required.
A DVD drive must be present and live internet connection is required to register DVDFab 10.
It also functions smoothly in Mac Operating System. It not only burns videos onto discs but also presents a HDD output of a standard DVD movie. It can be played using DVDFab Media Player or any other software according to one's convenience. The process is fast and issues like hanging of the system, slow processing etc are absent as multi-core processing is executed. Many videos can be processed simultaneously, which results in time saving. Thereby, one would not have to wait for long hours to complete creating a movie folder.
To conclude, one more feature that attracts multiple eyes is the availability of the software in nine different languages (English, German, Spanish, French, Italian, Portuguese, Polish, Japanese and Chinese) .The software has an active website where users can post their queries. The queries are answered in a brief span of time. Throughout the simple process, the user is guided. Thereby, DVDFab DVD Creator is pretty convenient, with tons of merits and less demerits as mentioned above, which is what takes it one step ahead of other similar software.