If you are looking for a modestly priced laptop with good specifications and stylish design then this laptop from Lenovo would definitely fulfil all your needs.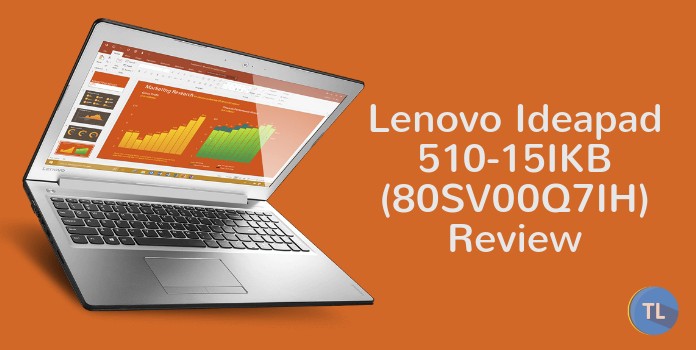 It comes with a fast Intel Core i5 CPU which will handle all your tasks with a relative ease giving you no chance to complain. Here are the complete specifications of the laptop. 
Specifications
CPU: It has a 7

th

 gen i5 processor from Intel which runs at 2.5GHz.
RAM: The laptop comes with 8 GB high-frequency RAM.
HDD: It has a 1 Terabyte hard drive which runs at 5400RPM.
Screen: 15.6-inch LED-backlit display
Resolution: The screen resolution is 1920×1080
Graphics Card: Intel HD
Video Memory: Shared
Bluetooth: Yes, Version 4.1
Wi-fi Module: Yes, 802.11 a/b/g/n/ac
Weight: 2.2 kgs
Lenovo Ideapad 510-15IKB Review
Display

 
The 15.6-inch Full-HD display on this laptop looks great. It is sufficiently bright and colours reproduction is good. The contrast ratio is acceptable but could have been a lot better.
The viewing angles are good but don't expect the display will look perfectly crisp and clear if not viewed at the extremities. In the end, it will be perfect for regular tasks such as watching movies, browsing the web or doing some work like programming, word processor, etc.
Battery Life
The laptop comes with 2 cell Li-ion battery with a capacity of 3220 mAh which will give an acceptable battery life of around 4-5 hours on medium loads. There are no benchmarks available right now so the battery life is only a theoretical expectation which might change depending on the conditions. 
Design
This laptop looks beautiful thanks to the cool metal finish even though it is made out of plastic mostly. It will still give you a strong and solid feel when you hold it. It looks sturdy and ready for getting into action whenever you want.
It does have a pretty decent number of ports such as an SD card slot, a VGA port which is a rarity these days, an HDMI port, couple of USB 3.0 ports and a lone USB 2.0 port. For audio input and output, it has a headphone and mic jack, even though it has an inbuilt mic. There is also a webcam which is acceptable while making video calls and nothing more due to its poor pixel count.
Audio Quality
The speakers are Harman Audio certified which means they are great. The stereo speaker system is loud enough to work flawlessly in a medium-sized room. The sound quality is very good average and you will really enjoy watching your favourite movies or listening to songs will a great experience as the speakers are known to produce the near perfect tones.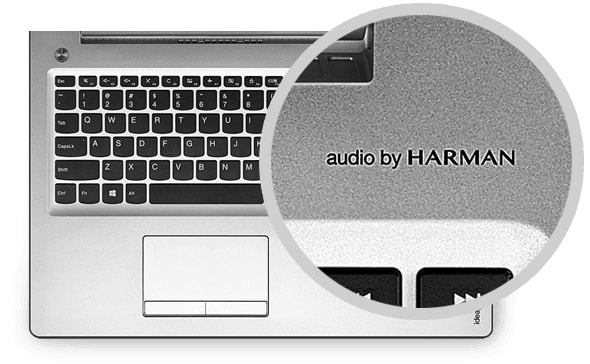 It doesn't come with one of the best custom software but the HD Audio Solutions will give you plenty of options to configure the speakers to satisfy your needs. 
So, with the help of this excellent speaker pair, the laptop will keep you entertained for a long time. 
Performance
In terms of raw the performance, the laptop is quite nice but don't expect some extreme performance from the laptop because of its i5 processor.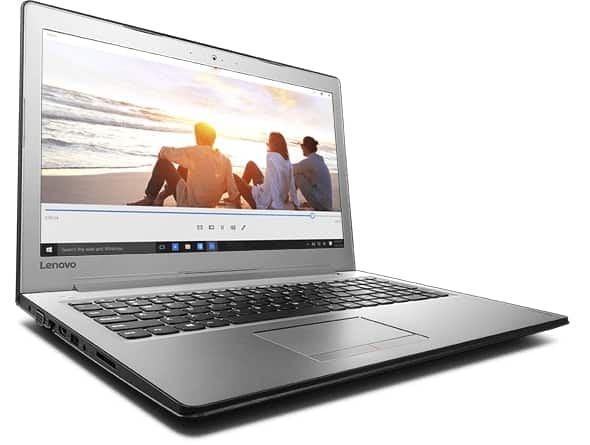 The processor is a low-end chip and just has two cores instead of four cores present in the higher models. None the less, you won't experience any sort of lags or glitches while performing everyday tasks. There might be some issues while playing games or using high requirement software though. 
Here are some of the synthetic benchmark result of the CPU. 
In Cinebench Multicore, it scored a decent 327 points on average which puts it at par with last gen i7-6600U.

 

In Cinebench Single Core, the CPU managed 128 points which are good.

 
These performances mean that the processor will be able to handle CPU intensive tasks like coding and decoding, compression and extraction of archives without breaking a sweat. 
This along with the standard 5400 RPM mechanical hard disk and Wi-Fi means that you won't be getting top of the line performance but the difference is so minor that you won't notice it in real-world situations. 
So, in terms of performance, the laptop is quite capable and will serve you without any problem for quite some time before a need to replace it arises. 
Graphics
This laptop has two options in terms of graphics card, the lower end models come with Intel HD 630 which is good for everyday tasks but won't let you play most of the games properly due to the limited performance. The higher end model which comes with a Nvidia Geforce 940MX will run most of the games and provide acceptable framerate with some adjustments in the settings. 
Let us take a look at the real-world performance of the laptop. 
1. Integrated Intel HD GPU

 
It can run fortnite at 720p with low settings and provide an acceptable 30 frames per second. This makes the game playable but not enjoyable.

 

The 2017 Assassins Creed Origins ran at 8 frames per second and was extremely unplayable and glitchy.

 

Fifa 18 ran well at medium settings on full-HD giving over 30 FPS.

 

Team Fortress 2, an F2P game ran perfectly on high settings at full-HD.

 
2. GeForce 940MX

 
You can play fortnite at medium settings on Full-HD and at ultra at 720p with decent frames per second.

 

Assassins Creed Origins is unplayable at low settings as it runs at 20 FPS.

 

Fifa 18 is playable at ultra on Full-HD with around 50 FPS.

 

Team Fortress 2 will run flawlessly at Full-HD in ultra-settings.

 
So, if you want the laptop for gaming purpose to go for a higher priced model with the Nvidia GPU. When it comes to playing 4K videos and encoding and decoding both the GPUs are fine. 
Price
The IP510 is a medium end laptop and therefore isn't exorbitantly expensive but at the same time, it isn't that cheap either. You can get it between ₹39000 and ₹51000 depending on the stores and graphics card. If you planning to buy from Paytm Mall then use the available Paytm mall coupons to get an additional discount on this laptop. 
Verdict
The laptop is an excellent choice for professionals as well as students thanks to its high specifications and design. It will handle all the work-related stuff flawlessly and will be great for entertainment. Those who want to play casual games like Overwatch, Fortnite and PUBG should opt for the variant with the discrete GPU to enjoy the gaming experience.