Rabbitair has recently introduced a new smart air purifier to their range. So we decided to go ahead and review the Rabbit Air MinusA2 – which on the face of it, looks like a really strong contender to be one of the best air purifiers of 2018 thanks to its elegant styling and array of smart features.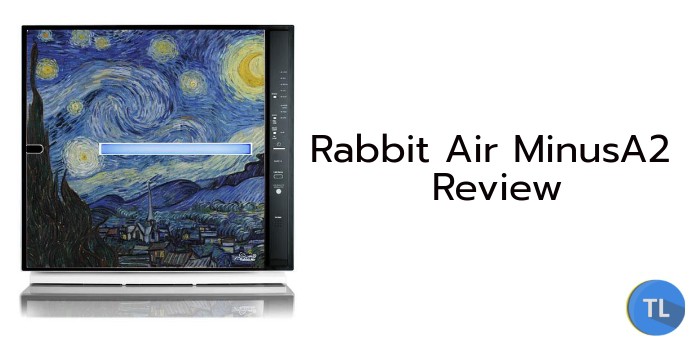 It's winning plaudits from some of the top air purifier reviewers in the industry like freshairguide, but also if you check on amazon – it has a staggering 4.5 stars out of 5 from over 560 user reviews.
The air minusa2 has a unique design which is able to easily adapt to most if not all interior décor without altering the ambience. It's a very slim purifier compared to many and can even be hung on the wall in order to save on space.
Style and Comfort combined
Other than offering a variety of multi-hue decorative front panels it also allows for the customization of filters. In accordance with the colour of the wall, one can choose from an array of designer front panels from the rabbit artistic series, which includes quality images from Vincent Van Gogh, Claude Monet and Katsushika Hokusai along with some custom designs of their own.
Efficient air filtration levels
Everyone wishes the air they breathe is the freshest and purest air possible. Sadly for many of us, this simply can't be a reality due to outdoor and indoor pollution which come in many forms.  Rabbit Air understands this requirement very well and thus offer four filter customization options to facilitate efficient air filtration according to your requirement:
Germ Defense Filter
If ever the presence of large amount of airborne bacteria, mould spores or virus elements is suspect, one can opt of this filter customization option. It quickly traps and reduces their amount and thus provides a germ-free environment.
Pet Allergy Filter
This filtration level efficiently minimizes pet dander and odours as well as allergens related to them. So no matter whether there are pets around you or not it will keep your surrounding air free from pet allergens and the danger that might occur due to their presence.
Toxin Absorber Filter
Whenever it feels like being surrounded by a large number of chemical components or Volatile organic compounds then this filter should be brought in to use for trapping and reducing them. It's efficient enough to significantly reduce all VOC's and chemical-related components.
Odour Remover Filter
It provides resistance against all sought of odours that could be experienced. One can solely rely on this filter for reducing all kinds of odour related to cigars, mildew, pets and cooked food.
Smart Auto-adjust features
The Air MinusA2 is designed to auto-adjust according to the needs of its users. While designing it was taken into account that aside from providing filtered air it has to maintain the relaxed and rejuvenating ambience of its surroundings.
Noise-free environment: This Rabbit Air filter is built with a whisper quite operational technique to facilitate noise free air filtration. This filter, in turn, provides a relaxed, distraction-free environment along with fresh air to surround you.
Undisturbed Sleep:  Rabbit Air filter features a light sensing auto mode. Enabling this mode facilitates a smooth transition of light from dark to dim as the day transits from bright sunlight to dark night and vice versa.
Other than its smart and efficient features it can be controlled remotely with the help of a wireless internet connection. No matter wherever you are either inside the house or out anywhere, you can adjust the Rabbit Air filter anytime you want.