Deep web is that hidden part of the internet which is not accessible through normal search engines such as Bing, Google or Yahoo and normal browsers. It covers around 90% of the total internet and still people find this topic a myth.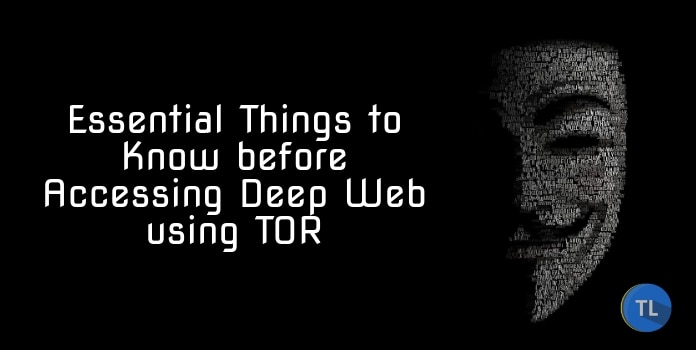 Deep web is an enigma on the internet and not many people are aware of how to access this over the normal internet.
Know about Deep web and important considerations
One of the key things you need to understand about the Deep web is that you cannot use a normal browser to access deep web websites that you want. You need to download and install specialized browsers that will help you create a private connection the website you want to access.
Also, another important point to remember is that you need to have a good security software or antivirus installed in your system since there are web crawlers or hackers out there in the deep web. You need to be careful as you may land into an insecure site and compromise your identity or security.
Explore Deep Web with TOR
TOR is one of the most popular and specialized software for accessing deep web. TOR browser is available to download free of cost and you can install this software anytime you want.
However, you may need to configure TOR and set up a few configurations if you want to access Deep web anonymously.
Configure TOR for Anonymous Access
One of the biggest benefits of using TOR is that it doesn't let you track your identity or IP address and gives you virtual private connection while accessing the websites.
You need to agree to the terms and conditions of the onion router software in order to download and install this device on your system.
The deep web is having millions of websites and those are not accessible directly through search engines but instead, you need to know the exact IP address of the website in order to access it through TOR.
How to use TOR?
TOR never advises or provides you with any link to explore or deep dive into deep web. If you want to explore different websites available on the deep web then you can access Hidden Wiki and make a start into the deep web.
Understand that you may encounter disturbing web content or notorious activities while exploring TOR and end up compromising your security. So you need to be careful while accessing through TOR.
Mysterious Information in the Deep web
There is a lot of mysterious information hidden over the internet and it also includes different illegal stuff as well.
Some of the information can be distributing and even more difficult to bear for anyone. Therefore, you need to check the website link and ensure that you keep your system secure before accessing the deep web using TOR.
Beware of suspicious or obscure links in Dark web
Deep web has numerous websites banned and part of the dark web. Dark web is yet another part of the deep web which has lots of suspicious, banned websites and hosting criminal activities.
It may also be contained websites supporting suspicious malware links or virus. If you are exploring deep web and end up finding any suspicious link on the dark web then you need to be aware of it and immediately trigger a block using your antivirus.
Avoid purchasing on Deep web
One should try not to purchase anything on the deep web and avoid using of credit or debit card. The key thing about this is that the transactions that you are doing on deep web is insecure and may get tracked.
Instead, you can plan to perform all the transactions through Bitcoin and the virtual currency is used commonly. Also, one should stop performing any kind of financial transaction either on the system where you are accessing or while exploring the deep web.
Secure your systems with Antivirus
Before accessing the deep web, you need to secure your systems completely by installing good quality Antivirus software. You also need to keep your system updated with latest OS version and keep your system firewall ON and also having the latest security patches. Apart from that, you need to beware of accessing any banned websites.
There are thousands of websites on the deep web that are completely fake and having malicious malware or virus so you need to tighten your system security by installing good quality antivirus software.
Certain illegal websites can easily get you into trouble. Make sure that you double check the link which you are trying to access using TOR or any other browsers. Deep web is filled with illegal websites and it can easily trap you into a wrongdoing.
The Bottom Line
Above mentioned are some of the useful points that must be taken into considerations before you access deep web using TOR. Ensure that you check these points and abide them strongly to avoid landing into trouble.