Discord is the most popular text and voice application that is specifically designed for gamers. Gamers use Discord to talk to their fellow gamers while playing games. It helps gamers to co-ordinate with each other while playing games especially multi-player games.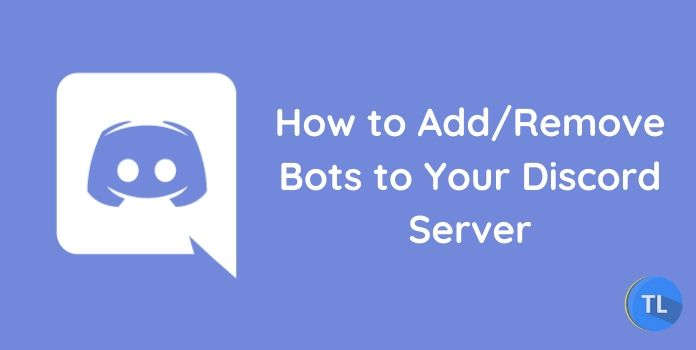 However, discord is now used by various people apart from gamers. There are various community servers are available on discord for gathering like-minded people to interact on certain topics such as TV shows, crypto, music, movies, and the list goes on.
The best part is Discord is free to use. So, you can also use discord to have a chit-chat with your friends by creating your own discord server. Also, here servers are nothing but groups that you can see on Facebook, WhatsApp, etc. but with a different concept.
Discord has great features but you can extend those features by adding bots to your server. Yes, you can add bots to Discord server. Like, you can add a bot to listen to music with all your friends. There are tons of bots available to enhance your Discord experience.
Adding a bot to Discord server is simple. Just follow the steps mentioned below to add bot to the Discord server. Also, we will explain the way to remove the bot from Discord from your server which you don't need. So, just follow the simple steps mentioned below.
How to Add a Bot to Discord Server
Before adding a bot to the server, make sure you have to manage server permission. If you created the server then you will have "Manage Server" permission anyway otherwise ask the admin to give you permission. If you have permission, then follow the steps below.
Do note that you need to use web browser or Discord app to follow the process. You can also add discord bot from mobile web browser.
Considering, you have the "Manage Server" permission. Here are the simple steps to add a Discord bot to your server. Just follow the steps.
1. Login in to your Discord account and then visit https://bots.ondiscord.xyz in your browser. This is an unofficial website for Discord where you can find almost all bots. Make sure you always add bots from trusted sources. Here, choose the bot you want to add and click on "Add to Server". I will be choosing the Rhythm bot for this post.

2. Once you clicked on that button, you will be redirected to the Discord page where you have to choose the Discord server where you want to add the bot. In my case, I'm choosing TricksLadder.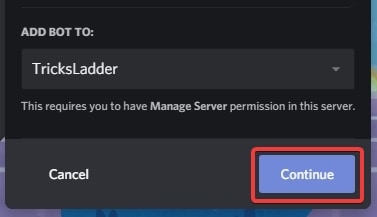 3. On the next page, you will be asked to give permission to bot in order to access your server. Permission may vary depending on the type of bot you are adding. You don't need to change anything here. Just click on the "Authorise" button to give permission.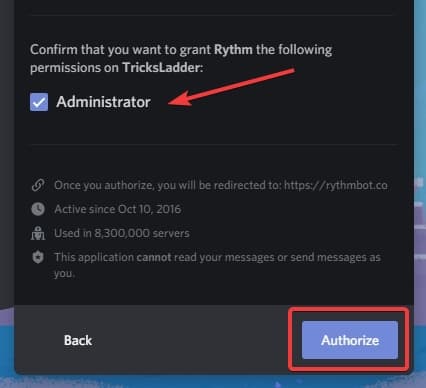 After this, you might be redirected to the bot official page or your Discord server which will depend on the bot. In my case, I got redirected to bot official website. The reason behind this you can configure your bot on their website.
To make sure the bot is added. You can check a message sent by the server on one of your channels (Mostly in the #general channel if you have don't have any other channels on your server). You can see a message from bot which will look something like this as shown below.

How to Remove Bots from Discord Server
While adding bots to your Discord server is fun. Sometimes, you will need to remove a bot that you don't need anymore. Fortunately, removing a bot from Discord is very easy. There are 2 ways to remove a bot from the Discord server.
You also need to have higher permission in order to kick the bot from your Discord bot from your server.
Just Login into your Discord account and go to the channel where you are given permission to the bot and right-click on the bot. You will have the option to kick the bot as shown below, click on it, and the bot will be removed or kicked from your server completely.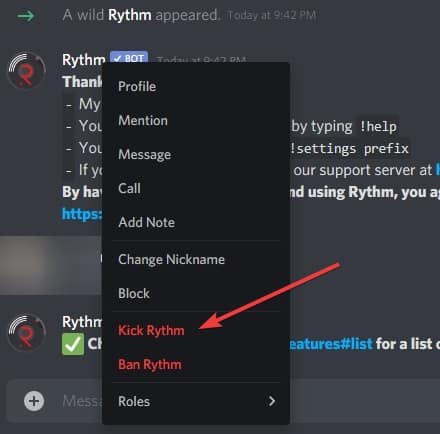 If you are unable to find the bot in the channels then you need to go to Server Settings by clicking on your Discord server as shown below.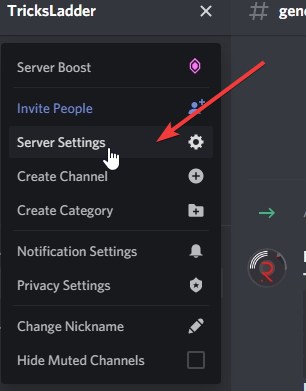 Once you are in the server setting, navigate to members where you can find the bots you added. Right-click on the bot you want to kick and click on "Kick (your bot name)" to remove the bot from your Discord server.
Hope this tutorial helped you to add some awesome bots to your Discord server.