Are you looking for the easiest and feature-rich manager for your iPhone or iPad? Then you are in right place.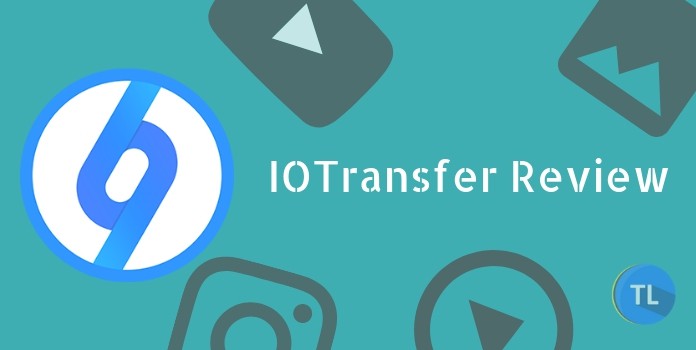 Taking a backup of your media and other things from an iPhone or iPad is never been an easy task. So, you need to have a simple software which helps you do all that stuff without too much hassle.
Well, IOTransfer is the software which you are looking for. IOTransfer is the easiest and feature-packed iPhone or iPad manager which makes managing your iPhone or iPad easy. It has all the features which you ever need to manage your iPhone or iPad. It's more than just a manager with some other features which you will definitely like.
We listed some the best features of IOTransfer 3.
Features Of IOTransfer 3
1. One-Click Transfer
IOTransfer makes it easy to transfer all your contacts, photos, music, and music from your iPhone or Ipad with a single click. You don't need to have iTunes to transfer your stuff to your PC anymore. It's just that easy to transfer all your iPhone or iPad data to your computer.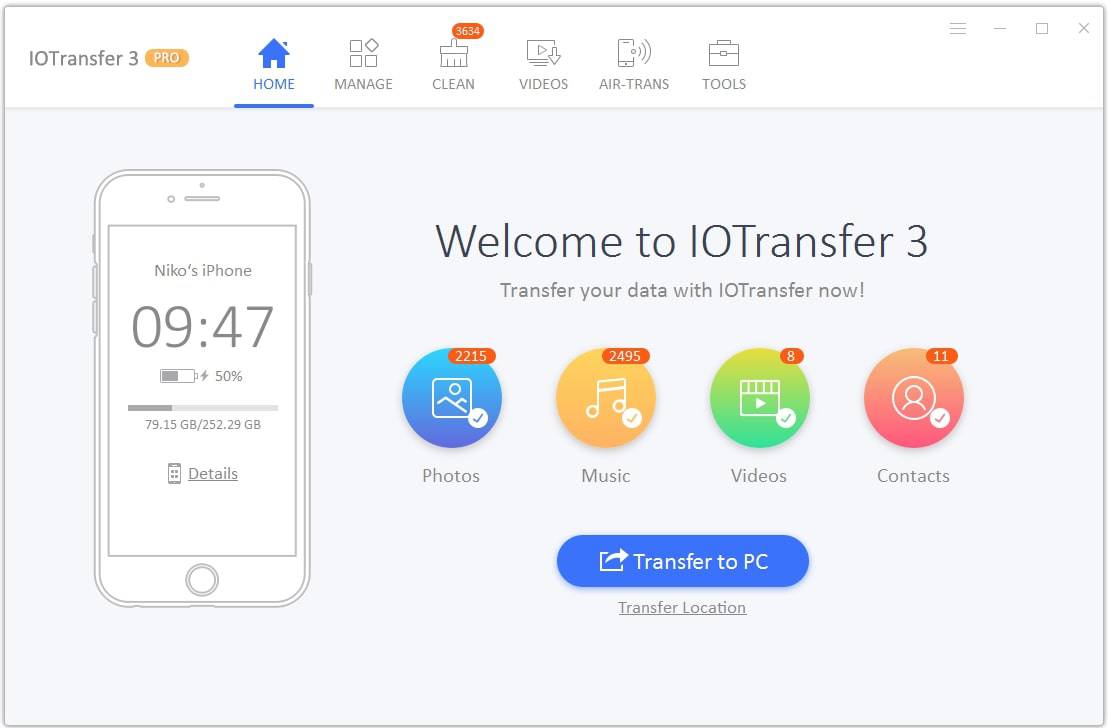 2. Managing Made Easy
IOTransfer made it easy to transfer your iPhone or iPad with one-click but there is more you can do. You can even see all your device data from your computer in a categorised way. IOTransfer is like a file manager for your Apple device which makes managing simple. It also lets you share with your friends.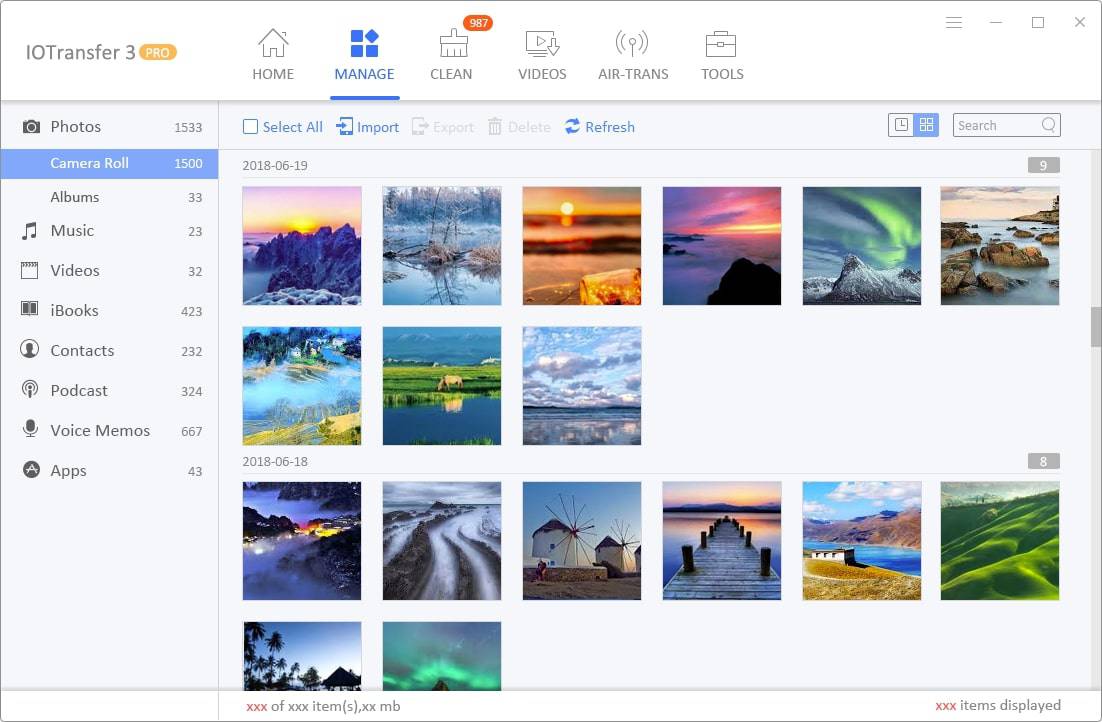 Also, you can select files to be imported to your PC rather than transferring all your iPhone or iPad date. The best thing you can even access your Books, Voice memos, Podcasts and even apps.
3. Clean Your Device
iPhones and iPads are faster but after regular usage, they will become slight laggy because of the all the App's cache, junk files and other unnecessary files. Cleaning those files is not an easy task but not from now.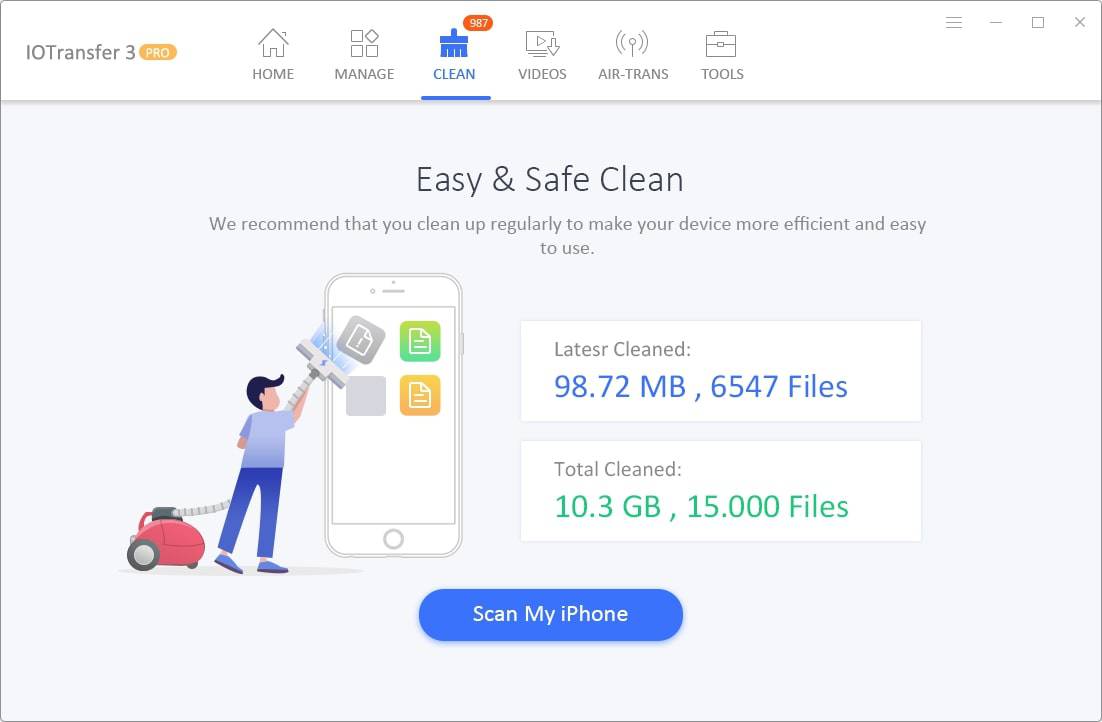 IOTransfer is there for you, it will scan for all the app cache, junk files and other unnecessary data. You can clean all those junk to free up your device space and also speed up your device.
4. Video Downloader
IOTranfer will not only help you manage your iPad or iPhone but also has a lot of other features. IOTransfer has a built-in video downloader which will help you download videos from various video sharing sites such as YouTube, Vimeo, Facebook, Twitch, Twitter, Instagram and more sites.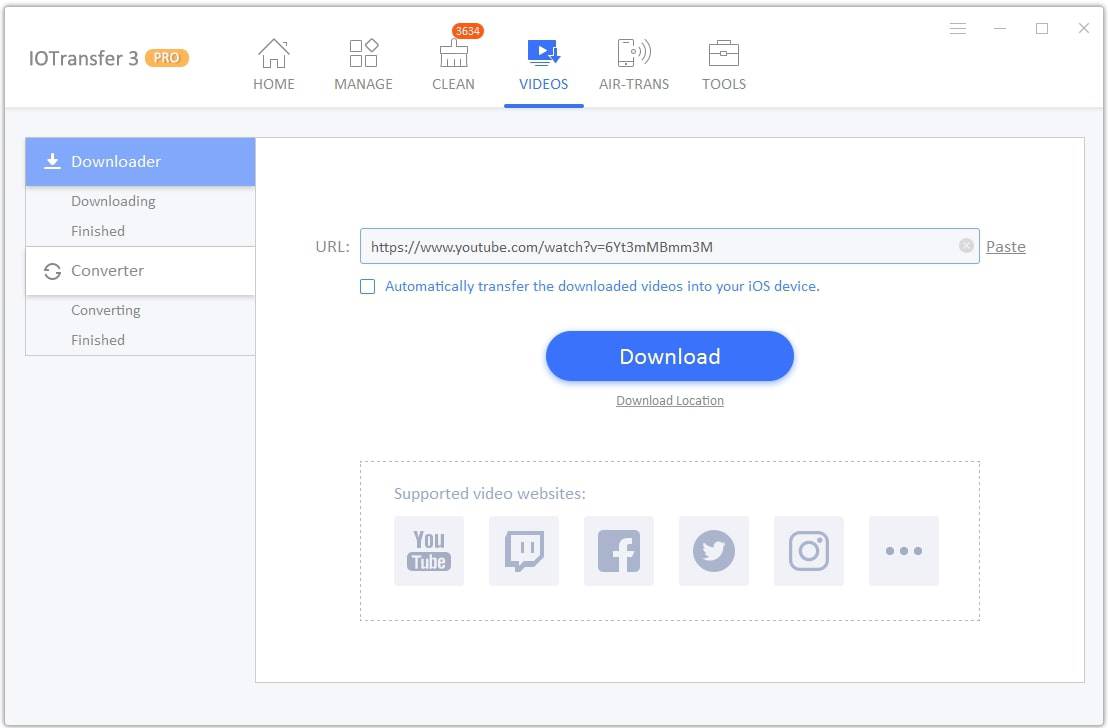 You have to just paste the video URL and click Download then it will download the best quality of that video. It's that easy and it's included in IOTransfer.
5. Video Converter
Video Converter is a very useful tool provided in IOTransfer. You can easily convert any video from one format to another such as MP4, MKV, FLV, MOV, MPC, HEVC etc with just a click. Just select the video which you want to convert and then select your desired format to which you want your video to be converted. Now, just click convert and in few minutes your video will be converted. For example, you can convert a video from YouTube to MP3 iPhone.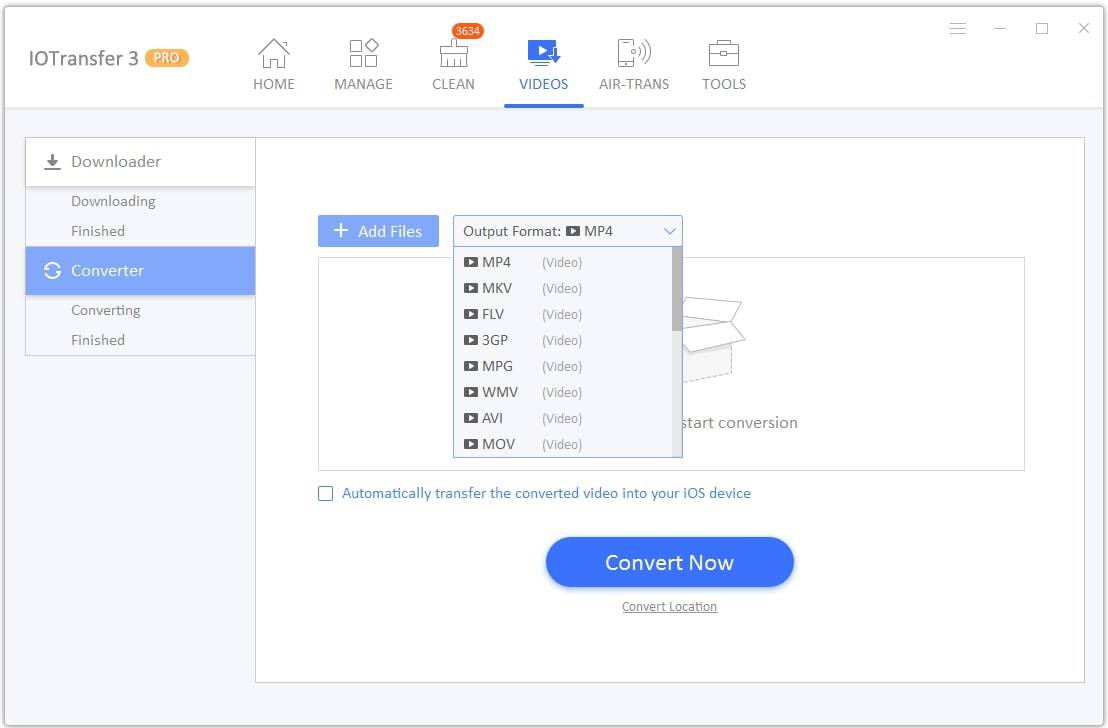 The most interesting thing is you also have an option to automatically transfer all your converted videos to your connected iPhone or iPad.
6. Wireless Transfer
Don't want to have the hassle of connecting cables to your PC? IOTransfer got you covered. IOTransfer has a feature called AIR-TRANS which will let you transfer files between your iPhone or iPad and PC wirelessly.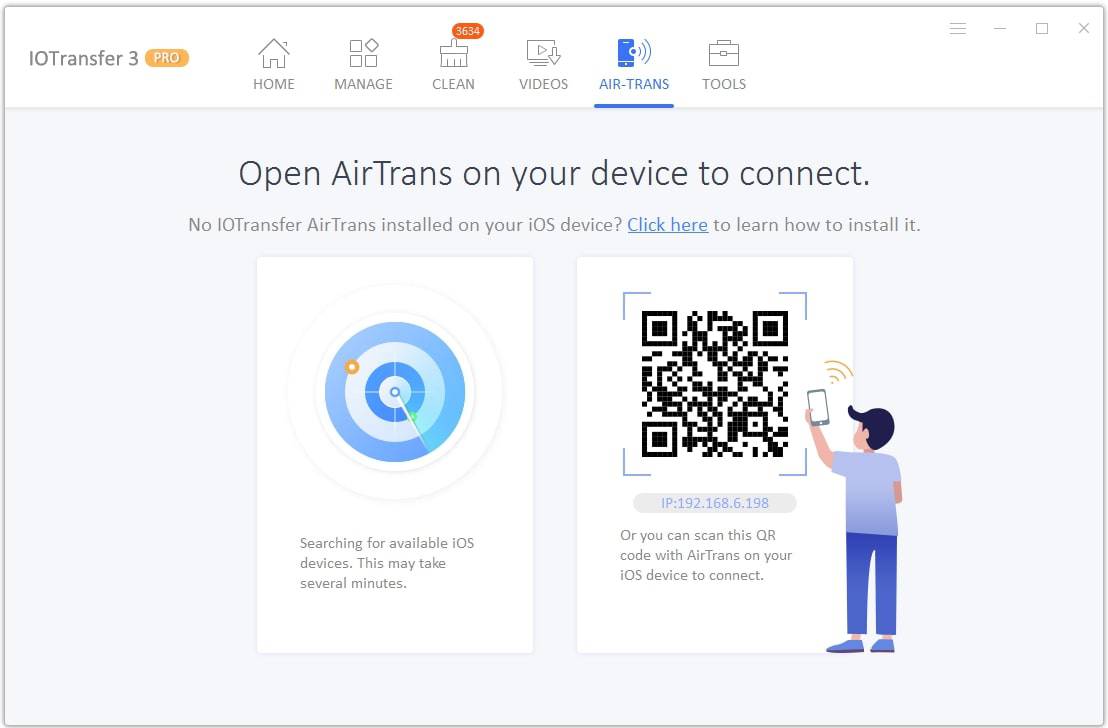 You just need to install IOTransfer Air-trans app from App store and get started with wireless transfer of files with Wi-Fi. It is a fast, secure and more elegant way to transfer your files such as photos, videos, books, contacts wirelessly with just Wi-Fi.
7. Instagram Downloader
Instagram is the most popular image sharing platform we all love. There is no easy way to download Instagram images or videos. All you need to do is paste the URL of the post you want to download and click on fetch then it will show all the images of that post. Now, select all the images you want to download and click on Download. That's it, your images or videos will be available in the destination folder.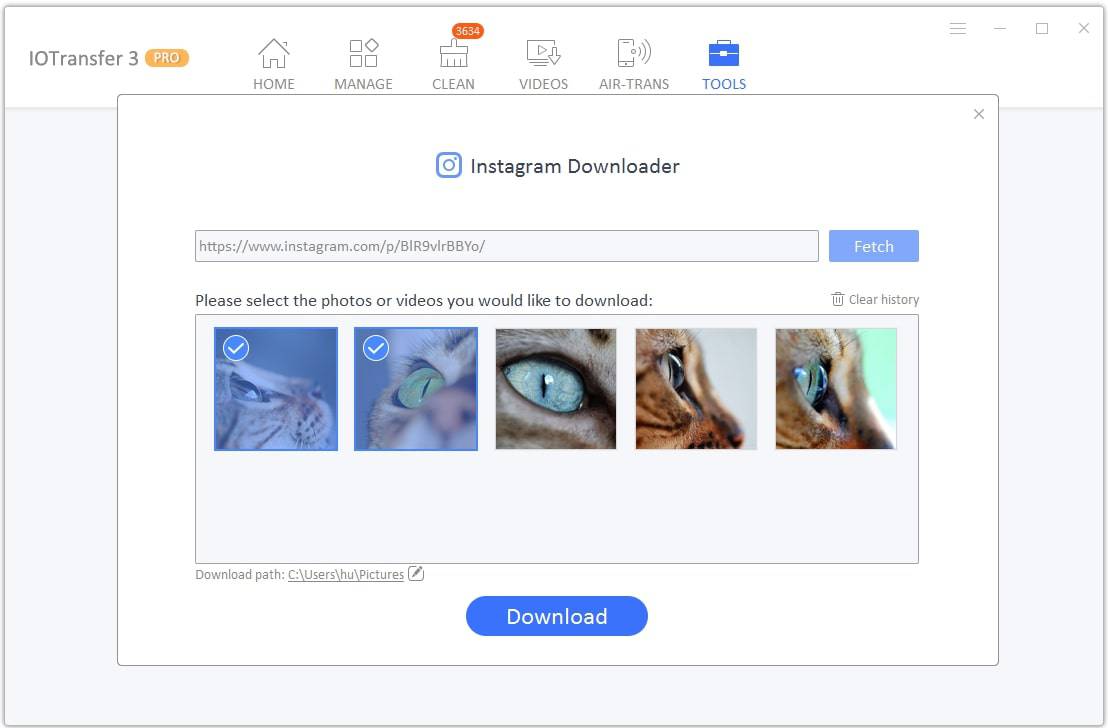 8. GIF Maker
GIF images are very popular these days. GIF's are as popular as videos and most of the platforms such as Facebook, WhatsApp etc are started supporting them natively. GIF's are small and interesting. If you are the one who always wanted to create GIF's then you have IOTransfer GIF maker to create a GIF from a video with simple steps.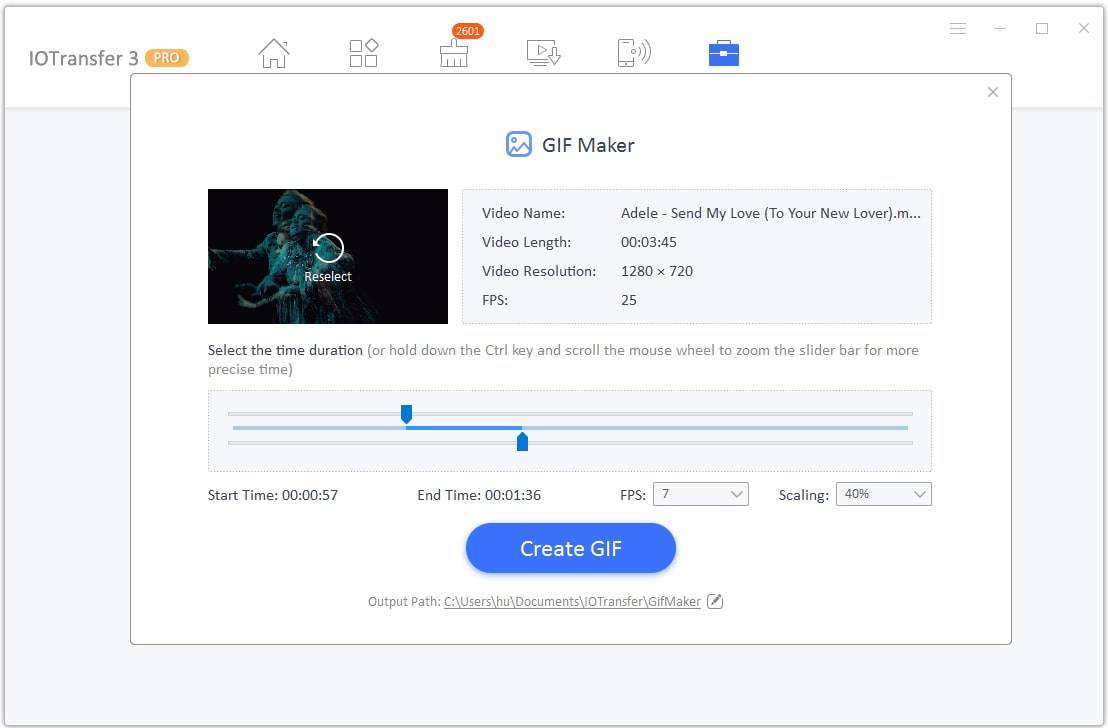 To create a GIF, just select some images or a video and select the start and end positions of the video which you want to convert to GIF and click on convert. Make sure your selected length is below 20 or 30 seconds otherwise your GIF file will be larger. You can also adjust frames before converting. Overall, a simple but handy tool to create a GIF.